Development Associate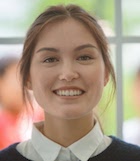 As the Development Associate, Aspasea assists the Development Lead in the design, implementation and engagement of Asylum Access's grassroots and major donor projects and campaigns. Her work includes strategizing and administering online tools to improve grassroots response and ensuring major donors are engaged and fully appreciated.
Prior to joining the Asylum Access team, Aspasea lived in Indonesia where she worked at an NGO on the national cookstove initiative. She conducted research into the impact of traditional stoves, particularly on women's health and the environment. Before, she was awarded a Fulbright Scholarship based in Indonesia, during which time she taught English at a local public school and established a community environmental program.
Aspasea graduated with a BA in International Business from the University of Washington. She speaks English, Japanese, and Indonesian.