Protection Officer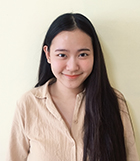 Nichapa has received her bachelor degree in law school from Chulalongkorn University last year and currently works at Asylum Access Thailand (AAT) as a protection officer.
Prior to work with AAT, she served as Protection Intern with UNHCR Thailand which evoked her passionate and inspired me to continually work in this field. Working at UNHCR also sharpened my knowledge to use international refugee law and national law, and provided her an experience in monitoring Immigration Detention Centre (IDC) by working inside IDC.

After finishing internship with UNHCR, Nichapa started to work as Protection Officer at AAT which her roles is to provide protection to asylum seekers and refugees in Bangkok by providing legal counseling and assisting them for Refugee Determination Status; furthermore, under her supervisor, she is a focal person for paralegal project which aims to empower asylum seeker and refugee community to assist themselves and expand access to Justice through their community paralegal.