Community Outreach Officer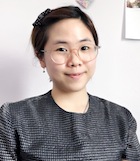 Nuch works to improve awareness on urban refugee rights, as well as improve urban refugees' well-being through community empowerment. She manages the intake of emergency cases, expands the urban refugee network into Thai and non-Thai communities, facilitates the progression of the democratic collective action groups, especially the SGBV group, and strives to improve the community interpreter program.
Prior to working with AAT, Nuch was the National Protection Officer for the End Trafficking in Persons project at World Vision Foundation of Thailand. She supported the Multidisciplinary Team by identifying gaps in implementation skills, and conducted appropriate capacity building workshops. Nuch empowered victims of trafficking at the shelter with her recreation curriculum to support mental health and distress. Finally, she advocated for victims through various media such as videos and articles.
Outside of work, Nuch has a small project to promote child protection in Thai communities and youth leadership training around Thailand. In regards to youth camp, she designs the curriculums and facilitates the training.
Nuch graduated from Thammasat University in faculty of Social Administration. She speaks Thai, English and Dutch.