RSD Team Leader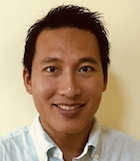 Sam Siew is Asylum Access Thailand's Refugee Status Determination (RSD) Team Leader. He oversees a team of volunteer legal advisors in providing legal services to asylum-seekers undergoing the RSD process with UNHCR in Bangkok. He oversees the provision of in-depth legal advice and representation of asylum-seekers at first-instance, appeal and re-opening stages of their case. He also provides information and guidance on resettlement. Sam's goal is to ensure that asylum-seekers and refugees have equal access and ability to present their cases for adjudication by UNHCR.
Sam is a Canadian lawyer who previously worked for UNHCR Indonesia as an Eligibility Officer, conducting RSD hearings and assessments. Prior to this, he was a Senior Legal Officer at St. Andrew's Refugee Services in Cairo, advocating for asylum seekers undergoing RSD with UNHCR Egypt. Before entering the field of international refugee law, Sam was a federal Crown Prosecutor with the Public Prosecution Service of Canada for six years, conducting criminal trials and appeals.
Sam holds a J.D. from the University of Toronto and an Honors B.A. in Peace and Conflict Studies from the same institution. He articled with the Department of Justice Canada and was called to the Bar of Ontario in 2010.