Community Outreach Coordinator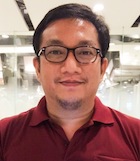 Wanrob has leads AAT's Community Outreach team with the goal of empowering urban refugee communities to gain more control over their lives.
Prior to joining AAT, he worked with Jesuit Refugee Service (JRS) in Bangkok and spent more than 7 years as a frontline staff and Project Director serving urban refugees, including those in Bangkok-Immigration Detention Center.
Wanrob has a Bachelor's degree in Applied Physics from King Mongkut's Institute of Technology North Bangkok. He is now in the process of obtaining a Master degree in "Rural Studies and Development" at Thammasat University and interested in Developing vulnerable communities.