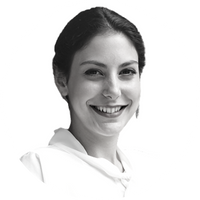 Abeer Benbuk
Media and Development Lead
she/her | Based in the USA | Joined in 2022
Abeer started her career in the humanitarian field in her home country, Syria, with an organization named SOS Children's Villages. She often went to the frontlines of the Syrian war to document the impact of the war on civilians, especially children. She interviewed and wrote stories about hundreds of families. She also met and spoke with combatants, learning what motivated them to leave their jobs and schools to fight a dangerous and bloody war.
In 2017, she was selected to be a fellow with Atlas Corps, a competitive fellowship program for social change leaders to serve in the United States. Her Service in New York City inspired her to pursue an MA degree in conflict resolution and coexistence to closely analyze civil wars in the Middle East, especially in Iraq and Syria. She spent the summer of 2019 working at a policy think tank named The Century Foundation in New York, learning how evidence-based progressive policies can target the root causes of conflict to foster peace, justice, and democracy in the Middle East.
In September of 2019, she started working with the visual investigations team at The New York Times on multiple projects that reported Syria, Iraq, and Lybia. She worked on a series of Pulitzer Prize-Winning reports that proved, for the first time, that Russian airplanes targeted hospitals and other civilian areas in Syria.
Abeer is a firm believer that policy research and advocacy are important to end human rights violations, hold culprits accountable and build a peaceful democratic world.