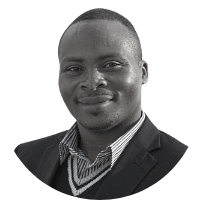 Bahati Kanyamanza
Associate Director of Partnerships
he/him | Based in the USA | Joined in 2021
Bahati, a refugee for over 22 years, has been working with refugees since he was a teenager – first in his refugee camp in Uganda and now the United States.
He has over 15 years of professional experience in nonprofit leadership, advocacy, program design, monitoring and evaluation, and fundraising. Born in Zaïre—now the Democratic Republic of Congo—at a young age he witnessed injustices, brutality of security forces, and atrocities by rebels towards civilians in his home country. When war broke out in the Democratic Republic of Congo, he was separated from his parents, running and hiding from rebels, suffering from hunger, diseases and abductions. In 1999, at the age of 14, he became a refugee in Uganda where he lived for 18 years. He became a refugee for the second time after being resettled to the US in 2016. His experiences as a refugee motivated him to become an educator and advocate.
Due to the many problems in his refugee camp, which included the lack of access to quality education, early marriages, substance usage among young people, and poverty among others, in 2005 he co-founded CIYOTA to meaningfully support conflict-affected children and youth in Africa's Great Lakes region to access quality education as well as work with families to start self-help initiatives to earn a living. He is also a founding member of the refugee-led organization network in Uganda.
Bahati believes that refugees should not be looked at as a liability to host communities, instead they should be appreciated as contributors. Refugees have so much to offer as advocates, educators, parents, workers and in many more capacities. Host countries should engage refugees and create a favorable environment for them to meaningfully contribute to their host communities by according them their full rights like any other citizen.
Before joining Asylum Access, Bahati was working for the Integrated Refugee and Immigrant Services, a refugee resettlement agency in Connecticut providing services to refugees and advocating for refugees' rights through public education. The durable solutions for refugees are not reliable and effective for long-term solutions for refugee issues. Advocating for refugees' human rights so that they can work, live and move freely, study and access services like healthcare, as well as engaging them in decision making at all levels should be the focus for the refugee response sector.
Bahati is a trained teacher, lawyer and holds a Master's degree in Sustainable Development from the School for International Training. He also serves on the CIYOTA board leadership and continues to share his refugee life journey through storytelling and publication with a hope of educating and reducing misconceptions about refugees.
"Having been a refugee for more than 20 years, I understand the challenges refugees face and the importance of the work Asylum Access is doing. I am honored and excited to join Asylum Access and look forward to working with colleagues to make refugees' human rights a reality."

— Bahati Kanyamanza
---