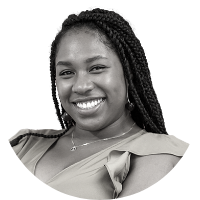 Camila Andrea Mena
Board Member
she/her
Camila is a data-driven advocate for economic empowerment who believes in community-led efforts to achieve equity. She is Communications Director of SF Black Wallstreet, where she works to empower and advocate for Black San Franciscans.
In the past, Camila was a Program and Data Fellow at the Latino Community Foundation, where she worked on the optimization of the Salesforce database to streamline and strengthen grantmaking. She supported the launch of the first-ever Latino Nonprofit and Data Map in California elevating Latino Demographics and nonprofits in the state. Prior to joining LFC, Camila was a researcher and policy advocate at the Bay Area Council Economic Institute. In this role, she developed reports and policy recommendations examining the housing, transportation, and employment trends of the Bay Area. Camila led the Institute's gender equity in the workplace initiative to help employers in the region to identify and implement practices to create healthy work environments for employees.
Camila migrated to the United States at 12 years old as an asylum seeker from Colombia. She has a BA in Sociology from the University of California, Berkeley, and an MA in Urban and Public Affairs from the University of San Francisco. Camila is passionate about social justice and equity. When she is not being active outdoors, she likes to spend time with her family and friends.