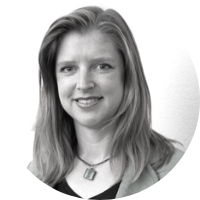 Emily Arnold-Fernández
President and CEO
she/they | Based in the USA | Joined in 2005
Emily Arnold-Fernández, the founding president and CEO of Asylum Access, is a social entrepreneur and human rights pioneer.
A lawyer and lifelong advocate, Emily has spent her career working to uphold rights and restore power to people who have been marginalized: Women, children, forcibly displaced persons and others. She first became involved in advocating for the rights of refugees in 2002, when she represented refugees seeking United Nations recognition in Cairo, Egypt.
Her first client was a young Liberian who had fled to Egypt to avoid being abducted and forced to fight as a child soldier. Because he was initially denied legal status as a refugee, he was at constant risk of arrest, detention and deportation by Egyptian authorities unless he could get the decision reversed – and he only had one chance to do so. Emily's legal advocacy won her client protection and safety in Egypt until his eventual resettlement in the U.S.
Unfortunately, Cairo was one of the few places where refugees had access to legal advocates like Emily. Hundreds of thousands of refugees navigate similar proceedings entirely alone.
And such proceedings are only a first step in fighting for fundamental human rights: Although Emily's client won safety in Egypt, he was not allowed to attend Egyptian schools or work in the Egyptian labor market. He could not count on Egyptian authorities to protect him against violence or discrimination. Emily's time in Egypt taught her that refugees who flee human rights violations in their homelands almost always experience further violations in the countries that should provide safe haven.
Committed to creating a world where refugees can find safe haven and rebuild their lives, wherever they find themselves, Emily founded Asylum Access. Today, the Asylum Access family of organizations has become the leading global actor dedicated to advancing refugees' human rights around the world, with a particular focus on Africa, Asia and Latin America.
Emily's innovative approach to the global displacement crisis has earned numerous accolades, among them recognition by the Dalai Lama as one of 50 "Unsung Heroes of Compassion" from around the world (2009) and the prestigious Grinnell Prize (2013). She also received the Equality and Nondiscrimination Award from the Mexican government's National Council to Prevent Discrimination (2016).
To share her knowledge and experience, Emily writes and teaches regularly. She currently tutors in the masters program of the Refugee Law Initiative at University of London's School of Advanced Study. Previously, she served as an adjunct professor at University of York (UK) and University of San Francisco, and a co-curricular instructor at Pomona College. In 2012, she was selected as a Social Entrepreneur in Residence at Stanford University, and from 2014 to 2017, she served on the Advisory Board of Oxford University's Refugee Studies Centre.
Emily holds a Juris Doctorate from Georgetown University and a Bachelor of Arts cum laude from Pomona College.