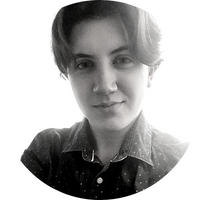 Gabriella Kallas
RRLI Director of Operations and Strategy
they/them | Based in the USA | Joined in 2019
As Director of Operations and Strategy, Gabriella works to design and implement inclusive processes and ways of working at the Resourcing Refugee Leadership Initiative (RRLI), as well as overseeing evidence generation and fundraising strategy. With a background in community-led initiatives, Gabriella is motivated by and grounded in the power of grassroots movements that refugee leaders and communities around the world are creating to transform the refugee response sector and seeks to support these movements through their work.
Before working at RRLI full-time, Gabriella worked at Asylum Access in different roles. Originally hired as a Special Advisor to Executive Director, they progressed to becoming a Policy Officer, and finally Senior Advisor, where they were a key member in the launch of RRLI.
Before joining Asylum Access, Gabriella worked in several capacities supporting immigrant and refugee communities in Greece, rural Colorado, and New York City. They have also been active in advocating for survivors of sexual assault, including by creating educational initiatives in their community. Gabriella holds a BA in American Studies from Williams College, and an MSc with Distinction in International Migration and Public Policy from the London School of Economics.
They are currently based in their native New York, where they love to enjoy all of the art, food, community, and dancing that the city provides.