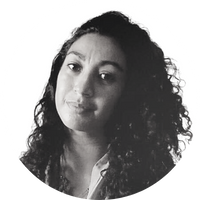 María Rebeca Ortiz
RRLI Program Officer
she/her | Based in Mexico | Joined in 2022
Rebeca is a Salvadoran refugee who grew up in Melbourne, Australia – a cultural in-betweener who advocates for the continued connection to heritage and cultural identity of those displaced from their homelands.
She is inherently curious about how people relate, define differences, surmount barriers, and blend ideas. This curiosity is what has driven her 15-year career in social justice, with a focus on international relationship building/management, project management and governance, pilot project strategy, and equity and inclusion.
Since 2011, Rebeca has traveled to 30 countries and lived and worked in Australia, Austria, Mexico, and Indonesia. Rebeca also has extensive experience delivering projects and collaborating with partners across the following countries: South Africa, Malawi, Lebanon, Jordan, Thailand, Cambodia, Indonesia, Solomon Islands, Nauru, Mexico, Guatemala, and El Salvador.
Her travels and fluency in English, Spanish, and A1 level German, continue to aid her in the daily enrichment of relationships and advancement of cross-cultural competencies.