Overview. Benefits. Our Volunteer Locations. Funding. Health and Safety. FAQs. Apply Now.
Volunteer Advocates (VAs) fill vital roles in our national operations in Ecuador, Mexico, Thailand, Malaysia, and Tanzania. They interact full-time with refugees on stages both large and small, advising them, supporting them, and uniting them in the face of country-wide discrimination. Without the heart and dedication that define our VAs, we would lack a driving force behind our mission to realize refugee rights everywhere.
What is the Volunteer Advocate Program?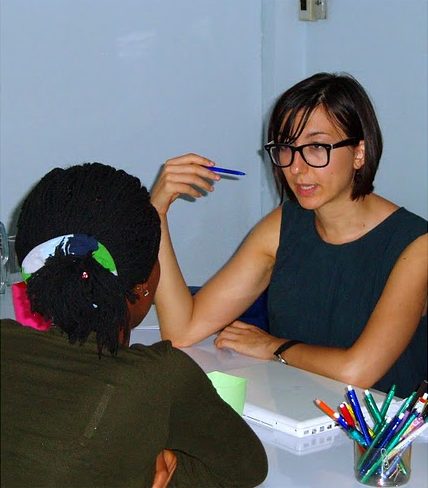 Our Volunteer Advocate (VA) program enlists both local and international professionals to work alongside refugees and provide services that enable them to rebuild their lives. While traditional volunteering seeks to respond to immediate concerns such as water, food, and shelter, Asylum Access fills the gap between humanitarian and development work. Specifically, our goal is to collaborate with refugees to guarantee their rights to employment, freedom of movement, and full participation in their local communities, restoring their agency without the entrapment of camps or discriminatory laws. VAs who commit to our minimum six-month program work within one of five countries in Africa, Asia, and Latin America.
Within the Asylum Access Model, VAs contribute to a wide assortment of fields. The legal components of Asylum Access services are supported by our Legal Advocates, a group of volunteer lawyers, law students, or people with refugee legal experience who provide direct legal advice, protection advice, referrals and representation to refugees who are navigating highly prejudiced environments. Example tasks include: reviewing case files individually with refugees and offering personalized legal counsel, researching Countries of Origin Information, engaging in policy advocacy, and writing briefs on specific cases to go before the UNHCR.
Other vital, non-legal positions include Community Empowerment Advocates, Communications Advocates, Coordination Advocates, and Administrative Volunteers, all of which help construct and support the community engagement and organizational networking in their target locations. Some example tasks include conducting needs assessments, developing materials for workshops, facilitating refugee-led initiatives, and coordinating with other refugee organizations. Other volunteers work in Policy Advocacy, assisting in the implementation of new, country-wide strategies, researching trends, and composing new reports for internal and external use. All VAs work alongside refugees and provide support to a capable local team.
As a part of the VA program, all volunteers are given the opportunity to practice what they are passionate about in an environment where their efforts truly make a difference. Our intensive training course provides VAs with valuable skills regarding human rights and refugee law. This training is combined with expert mentoring that guides VAs through the process of managing their own caseloads or supporting their relevant programs. Because the work that VAs do is centered around securing a future for refugees, a VA's impact is long-lasting—past successes have ranged from the establishment of women's support groups to the lobbying of anti-human trafficking legislation. The work of an Asylum Access Volunteer Advocate is more than a band-aid for systemic issues: their participation contributes to meaningful change and supports efforts that impact millions of lives.
Read more about a Day in the Life of a VA and what some of our Alumni have to say about working with Asylum Access.
Benefits
Receive intensive training and mentoring from experienced legal advocates on the ground

For our international VAs: gain practical experience living and working abroad among a supportive network of colleagues

For our local VAs: gain practical experience working in an international environment

Understand the range of local, national, and international players in the human rights arena

Manage your own caseload or support community programs, achieve tangible solutions for individual clients

Sharpen your foreign language and advocacy skills through daily interaction with clients or international volunteers

Tap into our growing pool of human rights resources around the world

Play a key role in protecting and ensuring refugee rights in Africa, Asia and Latin America

Receive valuable opportunities and updates for as long as you would like via our alumni network
Our Volunteer Locations
Ecuador
AAE is currently accepting applications for Legal Advocates, Program Strategies Advocates, Regional Leadership Advocates, Communications Advocates and Volunteer English Teachers.
Malaysia
AAM is currently accepting applications for Legal Advocates, Community Empowerment Advocates, and a Policy Advocacy Volunteer.
Mexico
AAMX is currently accepting applications for Coordination Volunteers, Legal Advocates and for volunteers interested in helping build and promote their new refugee rights platform Ruta de la Hospitalidad.
Tanzania
AATZ is currently accepting applications for a Policy Advocacy Volunteer and for Legal Advocates.
Thailand
AAT is currently accepting applications for Legal Advocates.
Health and Safety
Volunteers who have been selected for the program can contact Asylum Access with any questions they may have in regards to their preparation. Answers to common questions are available in our FAQs, complete with responses for each office. Visas are for the VAs themselves to secure, though Asylum Access can be a resource for particulars on each country's process. All VAs are also required to have international health insurance before entering another country.
Living in a different country can be a new and challenging experience for anyone. At Asylum Access, a large portion of that experience is supported by the sense of community fostered in each of our offices. In the words of a past international VA,

"Asylum Access teams are more than colleagues. When you're an expat at Asylum Access, it's a whole lifestyle of being immersed in the work and in a team of people who are all committed to it. You become like a family. I know it sounds corny, but you do! You rely on your team for a support network. They help you adjust, they give you an immediate social circle, and they step up if you're confused or down.
A local VA from Tanzania added,
"The environment at AATZ was one of family. We all loved each other, and I always considered the team to be my second home."
Funding
Generally, it is the VA's responsibility to apply for and secure funding—however, Asylum Access will gladly write letters of recommendation, give examples of successful fundraising appeals, and provide information regarding the program if requested.
Occasionally, law schools set up post graduate fellowships for top-performing recent graduates to work with Asylum Access. To get more information on this or to enquire about setting up a fellowship with your law school, please contact apply@asylumaccess.org.
Other resources for funding are:
Apply Now
Applications are accepted on a rolling basis, though new VA programs only begin two to three times per year. Applications are all submitted via email to the address specified on the individual application.
[twocol_one]
Open Legal Positions
---
Volunteer Legal Advocate
Volunteer Case Advisor
Volunteer Legal Advocate (Spanish Required)
[/twocol_one]
[fourcol_one]
City
---
Bangkok, Thailand
Kuala Lumpur, Malaysia
Multiple Locations, Mexico
[/fourcol_one]
[fourcol_one_last]
Starting Date
---
Immediate
Immediate
Rolling Basis
[/fourcol_one_last]
[twocol_one]
Open Community Empowerment Positions
---
Community Empowerment Volunteer
[/twocol_one]
[fourcol_one]
City
---
Kuala Lumpur, Malaysia
[/fourcol_one]
[fourcol_one_last]
Starting Date
---
Immediate
[/fourcol_one_last]
[twocol_one]
Open Policy Positions
---
[/twocol_one]
[fourcol_one]
City
---
Kuala Lumpur, Malaysia
[/fourcol_one]
[fourcol_one_last]
Starting Date
---
ASAP
[/fourcol_one_last]
[twocol_one]
Open Administrative/Communicative Positions
---
Executive Support Volunteer Advocate
Voluntario/a de la Ruta de la Hospitalidad (ES)
Voluntario de Dirección Nacional (ES)
[/twocol_one]
[fourcol_one]
City
---
Location TBD
Mexico City, Mexico
Mexico City, Mexico
[/fourcol_one]
[fourcol_one_last]
Starting Date
---
Immediate
Immediate
Immediate
[/fourcol_one_last]
[hr]
Do you have more questions? Download our FAQ sheet.
---