The Asylum Access family of organizations includes Asylum Access Mexico, Asylum Access Thailand and Asylum Access Malaysia

In Jordan and Lebanon, Asylum Access works with national non-governmental organization partners to implement new, expanded, or improved policy advocacy and legal empowerment programs.
---

Mexico
Asylum Access uses a human rights-based approach to help refugees rebuild in Mexico. Using combined efforts in legal empowerment, government capacity building, and private and social sector partnerships, Asylum Access improves access to and quality of asylum for thousands of refugees in Mexico. Asylum Access operates in 7 different locations: Acayucan, Palenque, Mexico City, Tijuana, Tenosique, Villahermosa, Monterrey.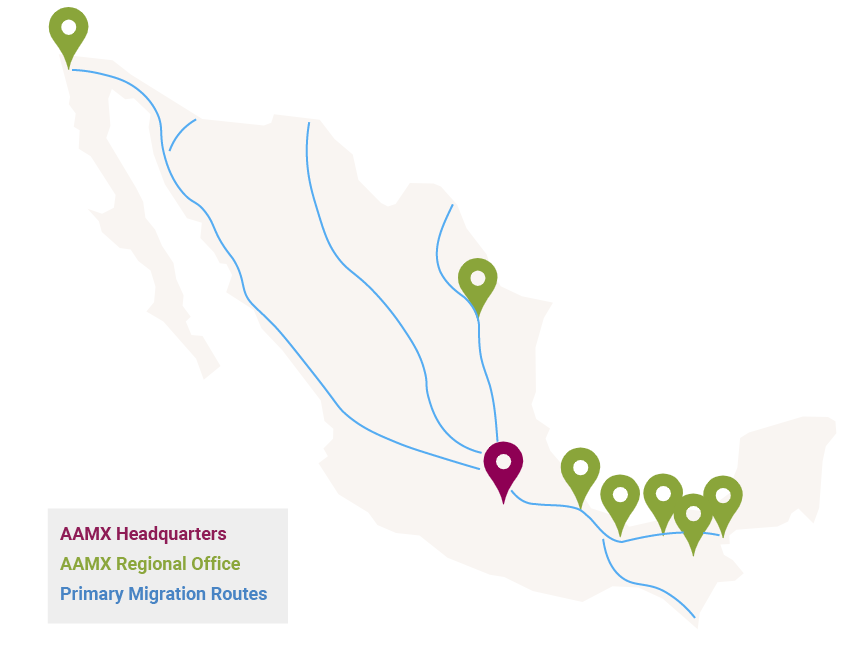 Are you a refugee in Mexico? Contact our office by emailing mexico@asylumaccess.org.

US-Mexico Border
Asylum Access works closely with refugee families on the US-Mexico border through our permanent presence in Tijuana and our frequent visits to Mexicali. We advocate for the release of refugee families from detention and provide critical information and legal representation for refugees seeking asylum in Mexico. Through our Hospitality Route, we help refugees find jobs and access other social and cultural opportunities so they can take part in their new communities and meaningfully rebuild their lives at the northern border and beyond.
Hospitality Route

The Hospitality Route, launched by Asylum Access Mexico in 2016, creates human connections among refugees and all sectors of society that harness refugees' talent and potential to enrich their host communities. The Hospitality Route's online platform links individual clients to professional, economic, social and cultural opportunities that our partners offer. These connections transform isolated efforts in welcoming refugees into a unified national network of organizations and institutions committed to including refugees in all aspects of society.

---

Thailand
Across Thailand, most refugees cannot go home and few are resettled. Asylum Access works to make refugee rights a reality by providing direct legal services and empowerment programs. These services help refugees obtain UNHCR cards, win release from detention, find safe job opportunities and put their children in school.

Asylum Access Thailand works in coalition with other Thai and Southeast Asia organizations, including the Asia Pacific Refugee Rights Network (APRRN), the Coalition for Refugees and Stateless Persons (CRSP), and Asylum Access Malaysia. Through these partnerships, we collectively advocate for changes in Thai law and policy that will create stronger protections for refugees and asylum seekers throughout the Southeast Asian region.

Community Empowerment
Asylum Access Thailand carries out a range of programs to support refugee communities in Thailand.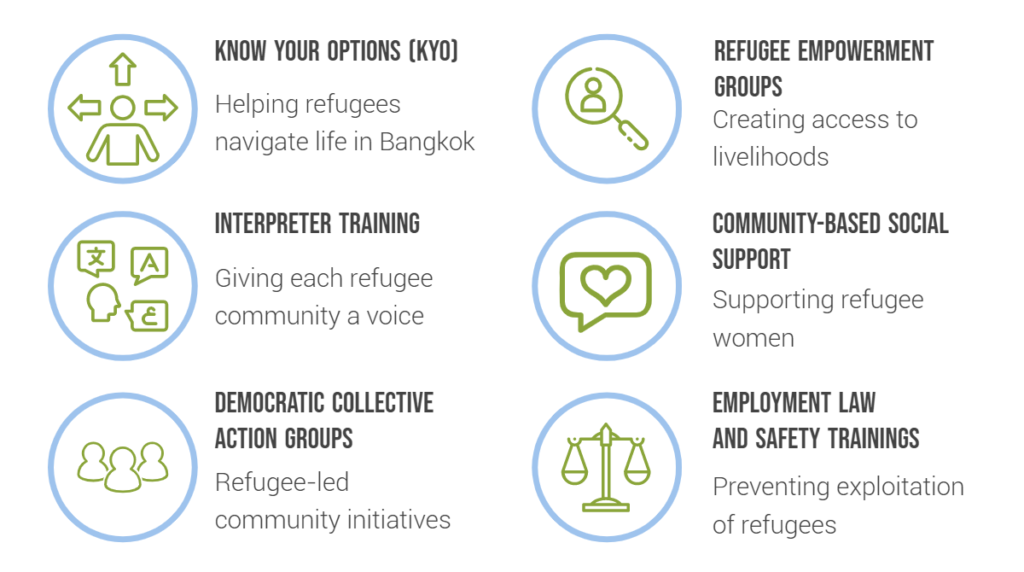 Refugee Status Determination Training
Asylum Access Thailand staff and volunteers, along with several local partners, have created a series of videos to help explain the process of applying for asylum in Thailand.
These videos are available in English, French, Arabic, Farsi, Somali and Urdu in order to best serve the refugee community in Thailand.
Are you a refugee in Thailand? Contact our office by emailing thailand@asylumaccess.org.

---

Malaysia
Asylum Access Malaysia (AAM) is a Malaysian-registered NGO and part of the Asylum Access family of organizations. Launched in 2014, Asylum Access Malaysia's on-the-ground operations include direct legal services for refugees and asylum seekers, 'Know-Your-Options' trainings, and engagement with UNHCR and other stakeholders in Malaysia's refugee rights movement.
Malaysia is not a party to the 1951 Refugee Convention, and has no domestic or administrative framework that governs refugees and their rights. Refugees also do not have access to fundamental rights including legal status, safe and lawful employment, formal education and equal protection of the law, and are at constant risk of arrest, detention and exploitation.
AAM's refugee legal aid program assists refugees and asylum seekers to successfully navigate the UNHCR Refugee Status Determination (RSD) process, thereby improving their chances of living safely and moving freely in Malaysia. In addition to direct legal services, AAM offers Know-Your-Options workshops to provide basic legal and practical information to help refugees navigate the RSD process and avail themselves of other legal protections that may prevent detention, and help them acclimatize to life in Malaysia. AAM has also begun capacity building activities with lawyers, universities and civil society organizations to develop a refugee legal aid network in Malaysia.
Increasingly, the Malaysian government has evidenced a greater willingness for dialogue on subjects such as refugee rights and human trafficking. As a result, AAM seeks new opportunities to further develop refugee employment rights, protection of refugees against trafficking, access to social services such as healthcare services, and improvements to due process protections in refugee status/asylum proceedings.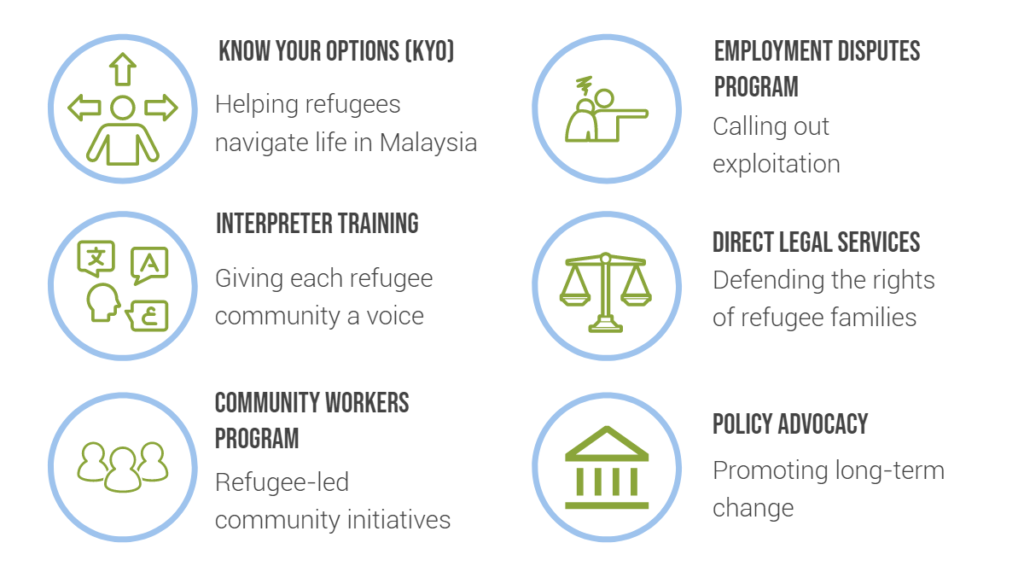 AAM is transforming the human rights landscape for refugees in Malaysia, so they can live safely, move freely, seek safe and lawful employment, send their children to school, and begin to rebuild their lives.
Want to contribute to the global refugee rights movement? Find out how to get involved or join us as a Volunteer Advocate.
Are you a refugee in Malaysia? Contact our office by emailing malaysia@asylumaccess.org.

---

Jordan and Lebanon
Asylum Access Global Services

Our offices in Jordan and Lebanon are the main hub for Asylum Access Global Services, which partners with other NGOs to develop, improve and expand their legal empowerment and policy change programs based on Asylum Access's successful models. Our Global Services arm helps us scale our efforts to meet global need.
Asylum Access Global Services supports partners by co-designing and coaching national NGO partners to implement new, expanded, or improved policy advocacy and legal empowerment programs; trains and convenes national NGO partners to navigate global processes; and leverages its own relationships, knowledge, and access to drive global support for partners' goals.

Our national NGO affiliates have used our strategies to strengthen refugees' ability to live safely, move freely, work and start businesses, and take other steps to rebuild their lives beyond Asylum Access's regional offices.

Find out more about Asylum Access Global Services here.

Are you interested in learning more about our projects in Jordan and Lebanon? Reach out to Elisa Cascardi at elisa.cascardi@asylumaccess.org for more information.
Are you interested in becoming an NGO partner? Contact us at info@asylumaccess.org.

---