---
Legal Clinic by Paralegal
Published on May 9th, 2021
อไซลัมแอคเซสประเทศไทย เห็นถึงศักยภาพของผู้ลี้ภัยที่เป็นคนรุ่นใหม่ ที่จะมาเติมเต็มการทำงานระหว่างอไซลัมแอคเซสและชุมชนผู้ลี้ภัยในเขตเมืองได้มากขึ้น จึงได้ก่อตั้ง "โครงการคลินิกกฎหมายโดยอาสาสมัครชุมชน"
ใครคืออาสาสมัครชุมชน คลินิกกฎหมายดำเนินการอย่างไร เชิญเข้าไปอ่านบล็อกจากลิงค์ข้างล่างนี้ได้เลยค่ะ
KNOW YOUR OPTIONS (KYO)
Through KYO, AAT aims to provide refugees with information on protection mechanisms, basic services, and refugee-serving organizations to help them navigate the challenges they face in Bangkok. The project also aims to develop refugees' understanding of Thai culture so that they live harmoniously with Thai communities.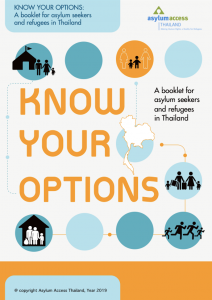 EMPLOYMENT LAW AND SAFETY AT WORK (ELS)
One of the challenges refugees face is unfair and dangerous working conditions. AAT implements the ELS training provided the information of labour and employment law, protection and the knowledge of work safety. This training aims to raise refugee awareness of Thai employment law and safety at work, especially those newcomers in Thailand who may not be familiar with working conditions and recognise their protection.