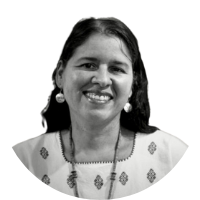 Carolina Jiménez Sandoval
Board Member
she/her/ella
Carolina Jiménez Sandoval is the President of the Washington Office on Latin America (WOLA). She holds over 20 years of experience in research and advocacy for human rights in the Americas and throughout the world.
Before her current role at WOLA, she worked at Amnesty International, where she was Deputy Research Director for the Americas in Mexico City. In her almost seven years there, she led a team of researchers documenting human rights violations and designing advocacy strategies to guarantee respect for human rights. Her work included a wide variety of themes and countries, from addressing grave crimes under international law in Venezuela and Nicaragua to promoting the rights of migrants and refugees in Central America, Mexico and the United States. Prior to that, she was program officer for the Open Society Foundations' Latin America Program and International Migration Initiative where she led the creation of CAMMINA (the Central America and Mexico Migration Alliance), a donor collaborative funded by OSF, AVINA and the Ford Foundation to support migrants' rights organizations in the region.
Earlier in her career, she was a program manager in the Democracy, Governance and Human Rights unit at the Trust for the Americas, a non-profit affiliated with the Organization of American States, where she led a regional initiative to promote the rights of migrants in Central America and the Caribbean. From 2008-2010, she was country director of the Jesuit Refugee Service in Venezuela and on the Colombian-Venezuelan border.
She also brings extensive experience in the international arena. She was project and research assistant at the United Nations University in Japan and worked in Argentina with the Gender and Public Policy Unit of the Latin American Faculty of Social Science, and as a research assistant for the International Gender and Trade Network.
She has a PhD in international studies from Waseda University, Japan, and did a postdoctoral program in human rights and ethics at the Central University of Venezuela. She holds a master's degree in international law and Asian studies from Chuo University, Japan, and a master's of philosophy in international relations from the University of Cambridge, England. She graduated from the Universidad Central de Venezuela with a BA in international relations.
She is a frequent contributor to media outlets and publications across Latin America and the US, especially on the human rights situation in Venezuela, refugees and asylum seekers' rights and other issues. She is a national of Venezuela and Mexico.