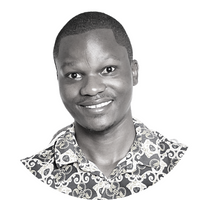 Davis Onjoro
RRLI Administrative Assistant
he/him | Based in Kenya | Joined in 2023
Davis supports RRLI team members in completing program activities that foster accessibility and inclusivity. During grantmaking cycles and strengthening programs, Davis focuses on providing logistical support to program teams and coalition members as they review applications and select new grantees. Davis is also responsible for grantmaking administration, financial administration (supporting RRLI's finance manager and program officers in funds disbursement to grantees), and other administrative tasks.
As a victim of forceful displacement in the 2007-2008 post-election violence in Kenya, Davis believes that refugees should have a seat at the decision-making table and take a leading role in developing and implementing solutions within their communities, considering that they have a better understanding of their communities' needs, challenges faced by their communities, and potential solutions to such challenges.
Davis holds a Bachelor of Science in Business Management, majoring in Finance and Banking, and is also a Certified Public Accountant (CPA-K). Davis is currently based in Kenya, and he is passionate about abstract art.