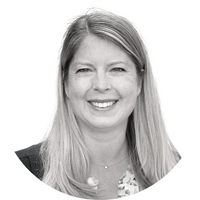 Lisa D'Annunzio
Chief Development Officer
she/her | Based in the USA | Joined in 2016
Lisa joined the Asylum Access team out of a deep drive and commitment to ensure that people who have been forced to leave their home countries can find safety and rebuild their lives. Lisa manages Asylum Access's global fundraising and communications strategies, and loves connecting with individual donors, private foundations, and anyone else who wants to join the movement to make human rights a reality for refugees.
Lisa received her Juris Doctorate from the University of San Francisco School of Law and her Bachelor of Arts, in music, from Pomona College. In law school, Lisa served as Executive Editor of the USF Law Review and Co-Chair of the Public Interest Law Foundation. She was also a Dean's Scholarship recipient. In college, Lisa participated in every singing ensemble willing to accept her, and she was especially devoted to the college a cappella music scene. Lisa spent four years singing with and managing the Claremont Shades, the first co-ed a cappella group at the Claremont Colleges.
After law school, Lisa moved to East Africa to learn about the refugee rights movement and figure out how she could play a role in advocating for power to be put back into the hands of people who have been forcibly displaced. She is a proud alumna of the Volunteer Legal Advocate program at Asylum Access Tanzania (now Dignity Kwanza) where she supported refugee clients to obtain legal documentation and co-founded a refugee women's empowerment group.
Before joining the Asylum Access global team in 2016, Lisa was pursuing her other passion – making music with children – as the Program and Special Events Director for the Piedmont East Bay Children's Choir.
Lisa is currently based in Oakland, California, USA, and in her free time loves being with friends and going on adventures with her husband and baby boy. She is also passionate about travel and cannot wait to share this big, beautiful world with her son.
I'm proud to work for an organization that's advocating for a complete transformation of the system of refugee response. People who have experienced forced displacement have been excluded from decision making for far too long. I'm proud to serve as an ally and use whatever power and privilege I have to fight for equity.

— Lisa D'Annunzio
---