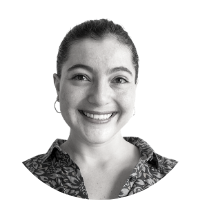 María Fernanda Viteri
Operations and Strategy Lead
she/her | Based in Vietnam | Joined in 2021 (Previously 2016-18)
As the Operations and Strategy Lead at Asylum Access, María Fernanda supports our team with the implementation and improvement of processes and systems, making our teams more efficient and effective. María Fernanda also oversees the organization's monitoring and evaluation efforts, and she is motivated by Asylum Access's impact on refugees' ability to rebuild their lives.
María Fernanda is a proud Asylum Access alumna, having provided support to our regional advocacy and communications team in Latin America, as well as providing legal advice to refugees and asylum seekers in Asylum Access Ecuador.
María Fernanda is passionate about human rights, social justice and sustainability. Before joining the team, she interned at the World Food Programme's public information department in Ecuador, where she had her first opportunity to learn about the reality refugees face in Ecuador. She has also volunteered with TECHO Ecuador to build emergency housing for people living in extreme poverty in rural and periurban areas of Ecuador. Additionally, she has contributed as a monitoring and evaluation consultant for projects related to early childhood education and development.
María Fernanda graduated with a Bachelor of Arts in International Relations from Universidad San Francisco de Quito, and holds a Master in Science degree in International Development Studies from the University of Amsterdam.
María Fernanda is currently based in Ho Chi Minh City, Vietnam. In her free time, she loves to read, travel, and explore cultures through their food.