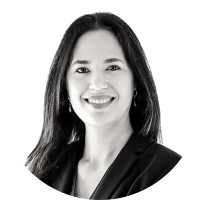 Mariela Hoyer Starcevic
Communications Director
she/her | Based in Austria | Joined in 2023
Mariela is a communications expert with 17 years of experience working for intergovernmental organizations, non-governmental organizations, and leading media organizations in Venezuela, Spain, Austria, and Portugal.
As a Venezuelan citizen and part of a migrant family spread all over the world, she has closely witnessed the hardships that forcibly displaced people go through, and she is convinced that access to fundamental human rights makes a difference in the opportunity to rebuild their lives and recover their agency.
She contributes to Asylum Access' work by providing strategic assistance to increase its visibility across all its platforms, strengthen its reputation, and engage key stakeholders to support its growth further.
She holds a bachelor's degree in journalism from the Andres Bello Catholic University in Caracas and a master's degree in public policy from King's College London.
Mariela started her career as a journalist for El Nacional newspaper, where she covered topics such as education and public health, trying to increase the visibility of underrepresented groups and bring attention to important policy issues. In 2009, she was selected to work and study in Madrid with a group of 20 Latin American reporters, and she became part of a network of more than 270 journalists who have been awarded the Balboa/Iberis Fellowship for Young Ibero-American Journalists.
After moving to Vienna, Austria, in 2011, she served as Press Freedom Adviser for Latin America and the Caribbean at the International Press Institute, where she developed and managed programs for the region. While at the Institute, she was also the co-editor of a book providing advice for journalists on how to cover the Millennium Development Goals. She is also the co-author of a book about Barrio Adentro, a public health program introduced in Venezuela in 2003.
Before joining Asylum Access, she worked for eight years at the International Dialogue Centre (KAICIID), where she held the positions of Public Affairs Officer, Chief of News and Media, and Acting Director of Communications. At the Centre, she led efforts to raise KAICIID's profile by developing a new digital strategy, creating engaging public information material, and implementing media outreach activities.
Mariela enjoys spending time with family and friends, traveling, being close to nature, reading, and doing yoga.