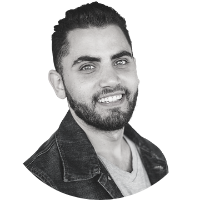 Mohammed Badran
Board Co-Chair
he/him
Mohammed Badran is an anthropologist, advocate, and a community mobilizer. He is a founding member of a number of self-led networks such as Syrian Volunteers in the Netherlands (SYVNL), the G100 Initiative, the Global Refugee-led Network (GRN), and the Diaspora Networks Alliance (DNA). His consultancy MB Capacity Development supports organizations, companies, and government institutions to better understand the different dimensions of migrations and the refugee experience.
Mohammad is originally from Damascus, Syria, where he studied interior design at Damascus University; he started to receive threats because of his humanitarian work which eventually forced him to leave. He resettled in the Netherlands in 2013, where he completed his Masters degree in Cultural Anthropology and Development Sociology at the Vrije Universiteit Amsterdam.
In 2017, Mohammed along with two other refugee leaders founded the G100 Initiative, a mobile dialogue platform that brings together newcomers with experts and decision-makers to find solutions to key challenges in cities today. So far, this initiative has led to a series of dialogues being held in Amsterdam, Brussels and Berlin, and bringing together relevant stakeholders that culminate in policy recommendations development and delivered by newcomers.