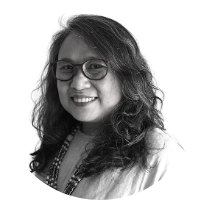 Naiyana Thanawattho
Executive Director, Asylum Access Thailand
she/her | Based in Thailand | Joined in 2019
Naiyana oversees overall operations, programming, and policy advocacy at Asylum Access in Thailand. Naiyana works closely with the Coalition for the Rights of Refugees and Stateless Persons (CRSP) and other refugee networks on alternatives to detention and advocates the government to recognize refugees.  
Currently, Naiyana represents civil society organizations (CSOs) in the Thai Government's Sub-Committee under the Regulation of the Office of the Prime Minister on the Screening of Aliens who Enter into the Kingdom and are Unable to Return to the Country of Origin, B.E. 2562 (2019), or the National Screening Mechanism. Naiyana aims to bring CSO and refugee perspectives into the Sub-Committee's considerations while developing the guidelines, procedures and criteria for the screening of protected persons.
Naiyana worked in child protection for over 12 years with UNICEF, UNHCR, and Save the Children. At UNHCR, Naiyana led Best Interest Determination processes for refugee children along the Thai-Myanmar border. She also provided child protection technical support to the program implementation team at Save the Children.
Naiyana holds a Master's Degree in Women Studies from Thammasat University in Bangkok.