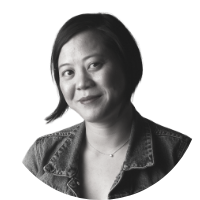 Susan Lieu
Board Member
she/her
Susan Lieu is a Vietnamese-American activist playwright and performer who tells stories that refuse to be forgotten. A child of Vietnamese refugees with a vision for individual and community healing—made possible through the interplay of comedy and drama—her work delves deeply into the lived realities of body insecurity, grieving, and trauma. Susan premiered her debut solo show "140 LBS: How Beauty Killed My Mother" in 2019 with a soldout run and has recently been on a 10-city national tour, receiving accolades from NPR, Los Angeles Times, The Washington Post, American Theatre, The San Francisco Chronicle, and The Seattle Times.
Prior to her arts career, she has held a myriad of roles: management consultant specializing in design thinking, process improvement, branding, and marketing; co-founder of Socola Chocolatier, an artisanal chocolate company based in San Francisco where she focused on building the brand, marketing and sales arm of the company; international development worker with experience in Zambia, Vietnam, Cuba and India. She has held non-profit board roles for several non-profits including War Legacies Project, Challenge Day, and Phillips Brooks House Association.
Lieu has a Bachelor of Arts in Social Studies from Harvard College, a Master's in Business Administration from Yale University, and is a graduate of the Coro Fellows Program in Public Affairs.