Name: Sarah Lundy
Age: 25
Hometown: Whitehouse Station, New Jersey
Schools Attended and Degrees Conferred: B.A. Spanish and Latin America Studies from the University of Vermont.
What type of law did you practice before volunteering with Asylum Access?
I worked with a migrant rights group and a non-profit immigration law firm while completing my Bachelor's.
At the migrant rights group I carried out community outreach with migrant farm workers, informing them on their rights. We also conducted peer education at universities in the area to raise awareness on migrant worker's rights and reduce the levels of exploitation they regularly face.
At the immigration law firm I worked as a legal assistant and translator. We provided free services to refugees from African and Middle Eastern countries, and undocumented workers mainly from Central America and Mexico.
What made you volunteer as a VLA?
After working with refugees and immigrants at the immigration law firm in Vermont, I wanted to continue providing legal services in Spanish and was especially interested in doing outreach with women and victims of gender-based violence. I was traveling through South America when I heard about Asylum Access Ecuador and decided to apply.
Please describe a typical work day in Ecuador.
I usually leave my apartment around 8:30am and take a crowded bus to the office.
Once at the AAE office, I'll get around 3-4 clients a day. Our clients may already have refugee status or may be asylum seekers. They usually come in for assistance in preparing an appeal or issues with landlords and employers. Quite a few come in for orientation on their rights and information about humanitarian assistance.
Between client visits I'll organize the next women's group meeting, which usually takes place every other Sunday. Before each meeting we need to recruit a facilitator, call participants to confirm their attendance, and find volunteers to take care of the women's children. After each women's group we also need to collect and document participants' evaluations of the meeting and write up a report.
I'll take an hour lunch break with my co-workers, though twice a week I give private English classes during lunch.
I also work with two external volunteers to organize and prepare weekly English classes for 11 students, including refugees, other migrants and even a few Ecuadorians.
I'm out of the office by 5:30pm, but two days out of the week, I'll teach private English classes after work hours for extra money.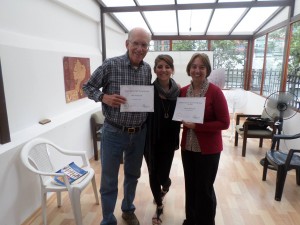 Please describe a typical weekend day/day off in Ecuador.
On the weekends, I like to get out of Quito, which is easy to do. Within 2 hours you're either in the jungle, the countryside, or a few more hours and you're on the coast. I've gone to Mompiche, Baños and Mindo to hike, camp or bike ride. I like exploring and trying new things, especially with fellow VLAs. We have a really international staff, everyone is dedicated to human rights and activism. It's fun to spend time with interesting, like-minded people.
On my days off I volunteer at a women's shelter where victims of gender-based violence seek safety and assistance. I'm a part-time social worker there, accompanying women to the hospital, preparing workshops, helping the women with their kids or just talking to them about their experiences.
Tell a story about a language barrier or cultural difference.
At AAE, we often receive Cuban refugees and even though I speak fluent Spanish, it's extremely hard to understand their accent! I have to ask them to write down what they're saying or cross check what I think they said with other documents. Since it's important that we properly document their story, this ends up being much harder than I would expect.
What is your best memory of your Ecuador experience?
My best memory was when I traveled to Mompiche, a beach town along the North coast. The weather was perfect, the beach was beautiful and I visited a ceremonial center with some good friends. While we were there we attended a healing ritual led by a local shaman; it was a unique opportunity and I feel like I got to experience yet another facet of Ecuador's culture.
What was/has been your greatest accomplishment as a VLA?
My greatest accomplishment has been organizing the women's group. When I first arrived, the meetings had been put on hold, but Community Outreach Coordinator Esther Mamadou and Comprehensive Justice Assistant Sayra de Jesus, and I started it up again and we now have a group of 20 women who are regularly attending.
They're getting to know each other and sharing their experiences with others that have often endured the same difficulties. Working with them has been extremely gratifying and is one of the reasons I initially came to Asylum Access Ecuador.
What was the greatest personal challenge you faced during your VLA experience?
The stories that you hear are disheartening and many of our clients have to endure so much, only be denied refugee status. They are often alone; their family may have even been killed. It's hard to look at someone with this kind of story and tell them that you might not be able to help them, though other organizations may be able to offer other types of assistance.
There are some cases that you can't handle alone and need to share with other VLAs to get it out of your system. The things our clients live through are so traumatic, we can't possibly understand their experiences, yet we have to listen and reiterate their stories in order to appeal on their behalf.
It can be really hard but, at the same time, you know that what you're doing is important and meaningful.
What was the greatest professional challenge you faced as a VLA?
My greatest challenge has been trying to figure out how I'd like to continue working in refugee services and whether to focus on legal services or social work. That's why I'm here: to identify the way I can best serve as an advocate for refugee and women's rights. By practicing legal services, community outreach and social work with AAE as well as other organizations, I hope to have a better idea of the next steps in my career path.
What do you see as the greatest challenge to asserting refugee rights in Ecuador?
Regardless of the legal rights refugees in Ecuador may have, discrimination by Ecuadorians is what often keeps refugees from accessing jobs and housing. Even as a recognized refugee or naturalized Ecuadorian citizen, they may face discrimination on a daily basis due to their Colombian accent or, in the case of refugees from the Middle East or Africa, their appearance. Xenophobia and discrimination toward the refugee population is something that needs to change at a national level in Ecuador.
How will this experience shape your future career plans/goals?
Before I came to AAE, I had no intention of working or living abroad, but my experience in Ecuador has made that a possibility and it's made me realize that I want to work in refugee and/or women's rights.
I've realized that you don't need to have a specialized title or a Master's degree to make a difference in peoples' lives and this has opened me up to different opportunities while I decide whether I want to go back to school to continue studying.
It's also helped me realize what I do best, like working directly with people in community outreach and legal services. My Spanish language skills have also improved significantly while working and living abroad.
I'm really grateful for my VLA experience because I've learned so much and admire the work that Asylum Access carries out internationally. It's been inspiring to work with like-minded, social and legal advocates committed to this cause.
Written by Communications Officer Sandra ten Zijthoff
Newsletter Spring 2015