On this International Artist Day (25 Oct), Asylum Access Thailand is excited to introduce you to an incredible initiative that combines art and mental well-being for urban refugees and asylum seekers in Bangkok.
🌟Psychological First Aid:
Refugees around the world encounter mental health challenges with an insufficient availability of supportive services. In Thailand, the AAT Community Engagement team is on a mission to support refugees in need. Through the Psychological First Aid project, we are offering strategies for stress management, emotional regulation, and valuable information on Mental Health and Psychosocial Support.
🎨 Body Maps for Healing (art therapy workshop):
Collaborating with talented artist Gerda Liebmann (IG: @liebmanng), refugees are exploring their emotions, self-awareness, and self-esteem restoration through art.
🌈 Gerda Liebmann believes that art has a unique power to heal, allowing individuals to express their innermost feelings and experiences. It's a journey of self-discovery and healing.
💬Quote from the artist Gerda Liebmann: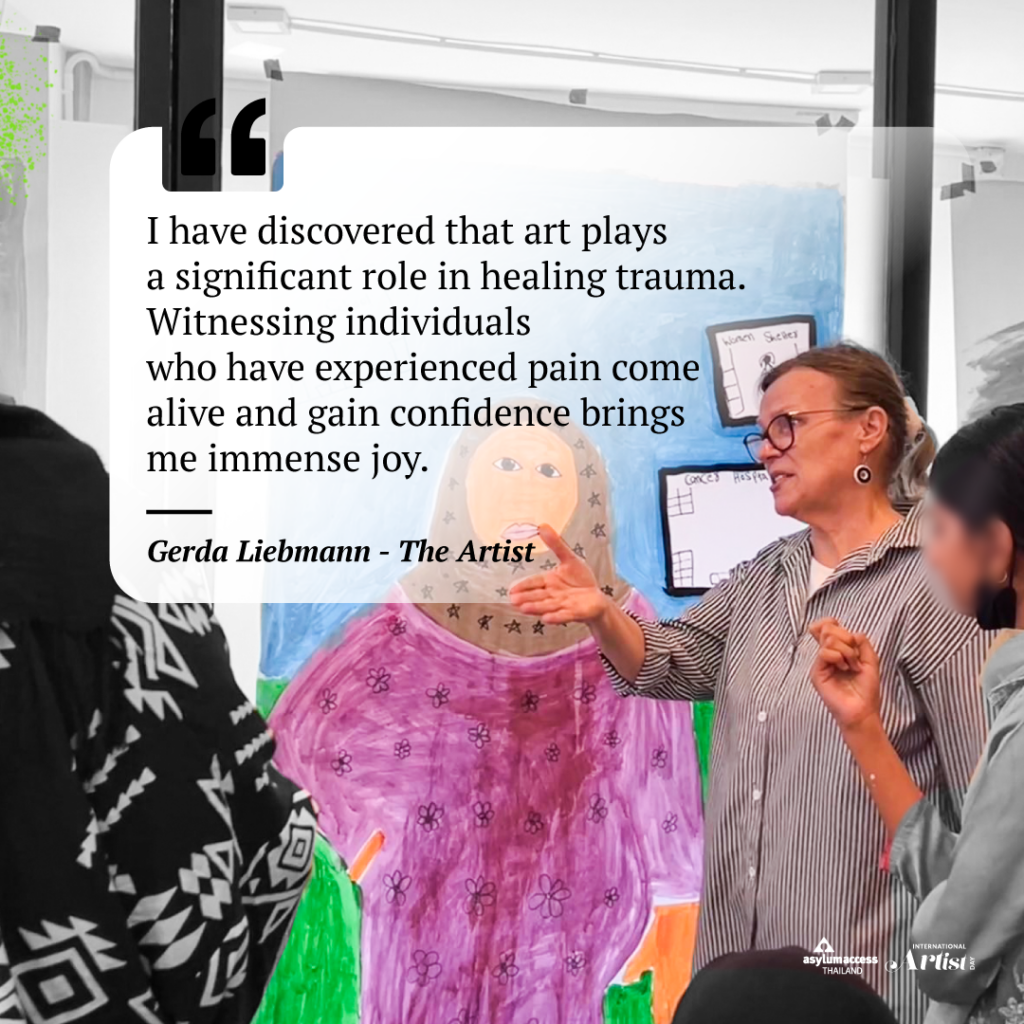 Art has a unique ability to bypass the mind. It's precisely this quality that enables the healing process. Playing with paints and expressing moods through the use of just the right colors, even embracing the mess of mixing acrylics with water, awakens emotions that are often closely guarded by the mind. Art workshops provide a secure environment to release inhibitions. Frequently, these sessions lead to quiet self-discovery, while at other times, participants enthusiastically share their epiphanies with the group.
I have discovered that art plays a significant role in healing trauma. Witnessing individuals who have experienced pain come alive and gain confidence brings me immense joy.
🗣️ Hear from the participants:
"Art is a versatile and universally accessible medium that can have a profound impact. Art Therapy helps me to cope with the challenges that I faced in my past and also at the same time helps me to think about rebuilding my future through vibrant colors. It also provides me with a sense of hope, healing, and a channel for self-expression during difficult times. Thank you for arranging the art therapy for refugee communities."
"I felt very great (during the process of making my body map). I think it is the best way to overcome your fear and anger through arts and drawing."
"I feel happy and I express my feelings on panting. Thank you so much for this memorable day."
Let's celebrate the therapeutic power of art this International Artist Day! 🙌💖 Share your thoughts and spread the word about this incredible project.