I first attended the "Encuentros de Mujeres" (Meetings of Women) in August 2011, during my first weekend in Quito, Ecuador. I have long been interested in sexual and gender-based violence (SGBV) issues, and was eager to volunteer at a workshop. Since 2010, Asylum Access has been organizing these workshops to provide a safe haven for refugee women who have survived SGBV to overcome trauma, find the strength to pursue justice, and regain control of their lives.
Over the course of the weekend, I was pleased to discover that I would not only be helping with the administration of the 3-day event, but I would also be participating. It was to be the sixth of seven retreats organized by Asylum Access Ecuador (AAE) with the support of the Norwegian Refugee Council (NRC). The theme was transitioning from survivor to protagonist – refusing to be defined by pain and adopting a proactive approach in order to regain control of their lives. Approximately 60 women have attended these workshops, with many of them returning for several sessions. That is a significant feat for women who often have multiple children, work several informal jobs, and live far from Quito.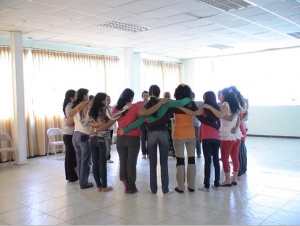 Through the leadership of Yolanda Aguilar, a Guatemalan anthropologist, feminist, and therapist whose work includes working with survivors of sexual violence during the Guatemalan war, the group developed an impressive rapport. I soon discovered why: Yolanda has a way about her that breaks down barriers between people. Her methodology encourages individuals to approach one another simply as people who are hurting and healing, and who are not afraid to let others do the same. Thus, the various AAE and NRC staff members who participated were folded into the group like vanilla into cake batter. Everyone's experience was regarded with equal attention and respect. Together, we discussed what healthy relationships look like, and together we sensed ourselves healing as women.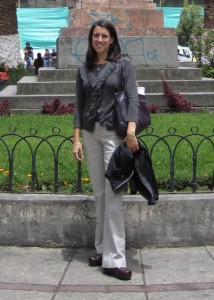 During my first Encuentro, I had no way of knowing the impressive amount of planning that had gone into the project, nor the incredible amount of change that had taken place in the lives of each of the participants. Soon after I returned from the Encuentro, I began working on several SGBV cases as a Volunteer Legal Advocate. To my horror, I discovered that some of my treasured new friends had been brutally violated and others had been forced into the sex trade.
I began to reflect upon my conversations with these individuals. I remembered the response of one woman, who was responding to a question about her family dynamics. "[I found it] difficult to relate to my children after all those unspeakable things happened to me…", she said. She paused mid-sentence, perhaps considering whether to go into greater detail, but instead moved on to reflect about the current state of her family. In hindsight, it is clear to me that she had already told her grim story in a previous Encuentro – she was given the opportunity to share and cry and rehash the bitter memories. She had done so and had moved on. I, in turn, was joining her for the stretch of her journey that involved discussions of a good present and an even better future.
Three months later, I attended the seventh Encuentro. It was as powerful and inspiring as the sixth, and even more celebratory. I have seldom witnessed such solidarity among members a group so large Repeat participants expressed greater confidence and joy than they had in earlier Encuentros. The weekends were packed with a variety of workshops  and exercises such as yoga, dance, poetry writing, small group discussions, and dramatic presentations. Essentially, the women were offered a sacred and protected space to eat well, sleep well, and boldly confront the demons of their pasts as well as the possibility of a joyful and fulfilling future. Through the Encuentros, these women have come to see themselves as proud, beautiful, and powerful protagonists in their unique stories of healing.
As I continued to delve into my refugee and strategic litigation casework, I began to realize how much I had been affected by my participation in these meeting on a professional level. I could feel my outlook changing as I internalized how much hope there is for the future of a refugee, no matter the pain or heartache that has plagued him or her in the past. While I work with refugees to pursue and defend their fundamental rights, others are dedicating their lives to help them psychologically and still others socially. With a little support from a few well-trained professionals, every refugee can utilize their internal strength to pursue justice and rebuild their life in a new country.
By Asylum Access Ecuador Volunteer Legal Advocate Grace Chisholm.
Published February 2012