Sisters Hasina and Bibi have something new in common. Rohingya refugees who fled to Malaysia as children, Hasina and Bibi were both married off as child brides, both unable to attend school, and both became young mothers. Now at ages 21 and 23 the pair of sisters share a new title: trained actors.
Through a new program by Asylum Access Malaysia (AAM) and partner organizations, Hasina and Bibi along with other Rohingya women have learned to bring their experiences to life. The result is a powerful new way to inform refugees about their rights and legal options in their new country.
"I'm so happy, this is the first time we are able to tell our stories… We would like people to know these stories," said Hasina.
For Bibi, playing the toughest roles comes naturally despite her shy personality, like the corrupt police officer, or the abusive husband. "I was able to play the role of the police officer because I was once stopped by a police officer and that was exactly how they treated me. In order to avoid being arrested we had to pay a bribe." Hasina added, "When the wife had to plead for her husband's release, that was exactly what happened to me and my husband a few years ago in Malaysia… These are the real issues that we face, so it is easy for us to act it out."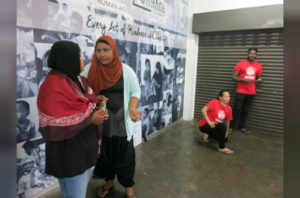 Asylum Access Malaysia launched the theater program out of necessity. In recent months the Rohingya have faced violent attacks and persecution in their home country of Myanmar, where they are considered non-citizens. Some 615,000 have fled to countries like Bangladesh and Malaysia. Reaching out to the newcomers, Asylum Access quickly discovered that its traditional presentation format was not appropriate to their level of literacy, leaving most participants staring blankly at the powerpoint slides.
So Asylum Access Malaysia partnered with the Bond Street Theatre from New York, a Malaysian theater company called MasaKini, and the Rohingya Women Development Network (RWDN), a local organization founded by Rohingya refugee Sharifah Shakirah. They selected six Rohingya women to join a group of experienced actors for two weeks of daily intensive training, after which they began performing at community centers for refugees.
The result is a uniquely powerful training for performer and audience alike.
The scenes portray issues like police corruption; employment disputes; gender based violence; arrest and detention; access to health; access to education and employment opportunities; and access to financial services. As a result audience members realize options available to them and new avenues to services. One participant realized she could explore educational options for her hearing impaired son. She approached AAM afterward and her son is now enrolled in school for the first time in his life.
In addition to personal skills training for participants, the shows deliver a message of empowerment for the community. According to Shakirah, who created RWDN to raise awareness about child marriage, domestic violence and for women's empowerment, "In our community, women are not given chances as much as men because we have a cultural belief that Rohingya women should stay at home. But in this theater, people can now see that Rohingya women can do something.
Hasina noted, "I never attended school because I was married at the age of 15 years old. I had my first child at the age of 16 years old." Added Bibi, "I hope that one day through theater I can educate other Rohingya women not to get married at a young age. They should attend school, educate themselves and decide what they want to be."
The theatrical format has proven an effective way to bridge literacy levels but also language barriers. The troupe has performed at community centers for Rohingya, Afghan, Iranian and Somali refugees.
Abed, an Afghani interpreter said, "Theater is a much better way to disseminate information, much faster and much more engaging. Even the young children were paying attention. It is a joy to see my people laughing even when their life here in Malaysia is difficult." Omar, a Somali interpreter said, "I see the Somali audience members are very, very interested in the information. I have done other workshops and I have never seen such a reaction from my community members."
For the future, the program plans to train refugees from other ethnicities to form a multicultural acting troupe. In the meantime, the Rohingya women are now attending acting classes 3 times per week. In the next month or two they will perform the show multiple times including at UNHCR.
For sisters Hasina and Bibi, it's just the beginning of what they hope will be a long journey of personal and community empowerment. Said hasina, "Theater allows me to learn more about my rights and I am able to teach others about what I have learned."
According to Shakirah,"There are people who think refugees are incapable of doing anything – that we always ask for money or food. But we want to tell people we are also capable, we want to show you our talent, and that we can live peacefully together."
Written by Associate Director of Advocacy and Communications Brian Rawson