Advocating for changes in the law takes time, patience, determination and effective collaboration
(En español más abajo)
Dear Friend,
My name is Alejandra and I have led Asylum Access Mexico since its beginnings in 2015 as a small office on the Mexico-Guatemala border to what is now the largest provider of legal aid to forcibly displaced people in Mexico with more than 50 staff across 7 offices throughout the country.
When we first started, one of the areas we felt was most urgent to change was the detention of child migrants and refugees in Mexico. I have personally visited the main immigration detention centers up and down the country and I can tell you that they are no place for any human being, let alone a child. I saw rooms at more than double their capacity, perhaps no more than one bathroom to share between 70 people, and scant hygiene supplies if any.
For children held there, these facilities were undeniably harmful. Children who had already been traumatized by the danger they had fled, the strife of the journey they had made, and then their arrest by heavily armed officials were being held without access to psychosocial care, education or even play—they were being completely deprived of their childhood. The scale of this harm was also immense: in 2019 alone, Mexico detained more than 50,000 migrant children.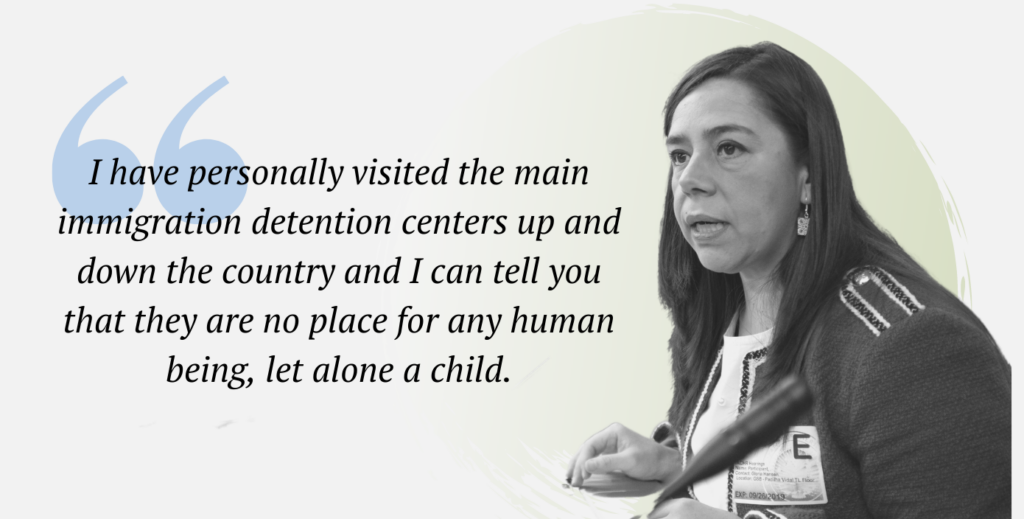 Most frustratingly, all this harm was going on due to one small discrepancy in the law: the 2014 law on the rights of children explicitly forbade the detention of children, but the 2011 law on refugees and migrants said that children could be detained as a last resort. We knew something had to be done, which is why we teamed up with a coalition of human rights advocates in 2015 to update the law on refugees and close this loophole.
After countless meetings with lawmakers over several years, the amendment passed the Mexican Senate in 2017 and finally in September 2020, the Mexican Congress unanimously approved the closure of this loophole. Working with governments to change the law can be unbearably slow at times, but all that effort over those 5 years was more than worth it knowing that tens of thousands of children and their families each year will not have to go through the trauma of immigration detention.
The work doesn't stop here. My team and I work with over 9,000 clients each year, and we continue to monitor how this change in the law is being implemented. We will continue to support families and individuals arriving here to find safety while pushing for their rights to freedom and self-determination. If you haven't already, I invite you to give to our appeal—your support is helping us continue this vital work.
In solidarity,
Alejandra Macías Delgadillo
Executive Director
Asylum Access Mexico
---
Lo que implica cambiar la ley
Abogar por cambios en la legislación requiere tiempo, paciencia, determinación y una colaboración eficaz
Querido/a amigo/a:
Mi nombre es Alejandra y he dirigido Asylum Access México desde sus inicios en 2015 cuando era una pequeña oficina en la frontera México-Guatemala hasta lo que es ahora: el mayor proveedor de asesoría jurídica para personas desplazadas por la fuerza en México, con más de 50 empleados en siete oficinas en todo el país.
Cuando iniciamos, uno de los aspectos que considerábamos urgente cambiar era la detención de la niñez migrante y de las personas refugiadas en México. He recorrido personalmente los principales centros de detención de migrantes de todo el país y puedo decirles que no son lugar para ningún ser humano, y mucho menos para un/a niño/a. Vi habitaciones con más del doble de su capacidad, posiblemente había solo un baño para compartir entre 70 personas, y escasos, o ningún, producto de higiene.
Para los y las niños y niñas detenidos, estas instalaciones eran indudablemente muy perjudiciales. Los niños y niñas que ya estaban traumatizados por el peligro del que habían huido, por las dificultades a las que se enfrentaron en su viaje y por ser detenidos por oficiales fuertemente armados, estaban siendo retenidos y retenidas sin acceso a atención psicosocial, educación, ni a jugar— se les estaba privando completamente de su infancia. La magnitud de este daño también fue inmensa: solo en 2019, México detuvo a más de 50,000 niños y niñas migrantes.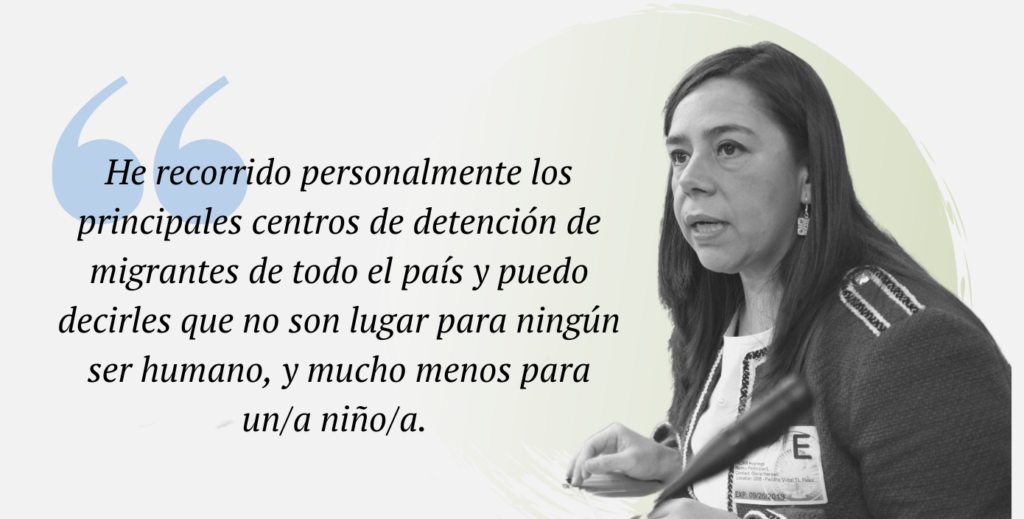 Lo más frustrante es que todo este daño se estaba causando debido a una pequeña discrepancia en la ley: la ley de 2014 sobre los derechos de niñas, niños y adolescentes que prohibía explícitamente la detención de niños y niñas, pero la ley de 2011 sobre refugiados y migrantes decía que los niños y niñas podían ser puestos en detención como último recurso. Sabíamos que había que hacer algo, y por eso nos aliamos con una coalición de defensores de derechos humanos en 2015 para actualizar la ley sobre los refugiados y eliminar esta laguna.
Después de innumerables reuniones con legisladores y legisladoras durante varios años, la enmienda fue aprobada por el Senado de la República en 2017 y, finalmente, en septiembre de 2020, el Congreso mexicano aprobó por unanimidad eliminar esta laguna. Trabajar con los gobiernos para cambiar la ley puede ser insoportablemente lento a veces, pero todo ese esfuerzo durante esos 5 años valió más que la pena al saber que decenas de miles de niños y niñas y sus familias cada año ya no tendrán que pasar por el trauma de la detención por razones migratorias.
El trabajo no termina aquí. Mi equipo y yo trabajamos con más de 9,000 clientes cada año, y seguimos monitoreando la implementación de este cambio en la ley. Seguiremos apoyando a las familias y personas para que estén seguras, al mismo tiempo que luchamos por su derecho a la libertad y a la autodeterminación. Si aún no lo ha hecho, le invito a colaborar en nuestro llamado: su apoyo nos ayuda a continuar con este trabajo vital.
En solidaridad,
Alejandra Macías Delgadillo
Directora Ejecutiva
Asylum Access México (AAMX)