In the photo that leads off Nicholas Kristof's June 25 New York Times article, the blue lattice doorway to the right of the map leads into Asylum Access's office.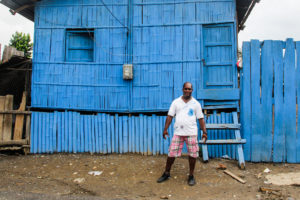 Although Kristof paints an appalling picture of the deportation and murder of refugee children, Asylum Access Mexico is slowly changing this dire reality.  Last year, we opened offices in 2 towns on Mexico's southern border — including one in the Tenosique migrant shelter in the photo — and this year, we opened two more along the route many refugees take to seek safety.
At our offices, refugees from Central America receive information about their rights and options in Mexico — and, if they want it, help to file for asylum.  This, in turn, protects them against deportation, and gives them the right to access education, employment and other opportunities.
When I visited the shelter in Tenosique earlier this year, I met teenage boys like Cristobal, the one Kristof profiles.  Like Cristobal, they fled gang violence and death threats.  Unlike Cristobal, however, these teenagers had been granted asylum thanks to Asylum Access's legal assistance.
They'd also resumed their education.  I've never met a teenage boy who was so thrilled to be attending school!  (Some things are universal, however — when I visited, a group of boys were sitting just outside the "girls only" section of the shelter, clearly trying to drum up courage to talk with the girls as they walked by.)
From July 2015 to June 2016, Asylum Access provided legal assistance to over 1300 refugee children and adults, helping them to seek safety in Mexico.  By June 2017, we hope to nearly double this annual figure.
At the same time, we're engaging Mexican government officials at national, state and municipal levels to find alternatives to the dangerous deportation or detention of refugees.  As Kristof notes, returning young refugees like Cristobal to face death at the hands of ruthless gangs is unconscionable. Through our advocacy, we are demanding — and creating — an alternative.
Written by Executive Director Emily Arnold-Fernandez