Name: Adilah Nasir
Age: 28
Hometown: Kuala Lumpur, Malaysia
Schools Attended and Degrees Conferred: Bachelor of Laws in Malaysia, Advanced LL.M. in Public International Law (specialization in International Criminal Law) from Leiden University, the Netherlands.
What type of law did you practice before volunteering with Asylum Access?
I worked mostly in international law. I started at the International Criminal Court in the Netherlands, but soon afterwards shifted to focus more on human rights observation and conflict analysis. I also spent a lot of time abroad, working for an organization called For Peace Presence in Colombia before joining Asylum Access Malaysia. Before my time at Asylum Access, I actually never worked directly within refugee law, although I did volunteer in the past to teach local refugees in informal classes.
What made you volunteer as a VLA?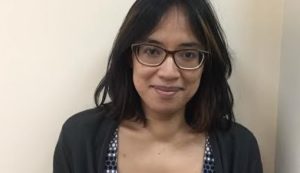 I've always thought about working with refugees in Malaysia and I stumbled onto this opportunity, by chance, after shooting an email to Asylum Access. I wanted to contribute in a meaningful way, but previously in Malaysia, there was no concept of providing free legal aid to refugees, so what Asylum Access Malaysia is trying to do really resonates with me. I especially like how Asylum Access works to protect refugee rights within the political climates of countries such as Malaysia that have yet to ratify the 1951 Refugee Convention.
Can you describe a typical workday?
I usually get in really early in the morning because of traffic, as I live quite a bit away. I also prefer to catch up with colleagues and organize myself before the day starts. Then, we may have sessions with clients to work on their legal briefs or declarations, and that takes up most of my days. Because I'm a local volunteer, I have additional knowledge on Malaysian law and work on policy materials that can help open doors for refugee rights in Malaysia.

Partners often will refer cases to us, so we generally have a huge number of cases that we're sorting through. Probably the most difficult thing is the feeling of helplessness when clients come into the office with specific needs that we're unable to help with that are outside of the scope of legal rights (e.g. costs to pay for hospital stays or advice on jobs or living situations).
How do you spend a typical weekend or day off in Malaysia?
I usually spend my days relaxing at home in Kuala Lumpur. I spend time with other VLAs, we sometimes organize an event together to visit cultural sights, there are lots of mosques or temples to visit. On a longer weekend, I'll escape to smaller cities nearby.
Tell a story about a language barrier or cultural difference. 
We do a lot of work with interpreters because our clients come from all parts of the world. The biggest language barriers I've felt in this role are with clients from Myanmar because they often have different dialects from different townships. We do the best we can with getting different interpreters but I do notice that there are often difficulties in communication and clear translations.
What was most memorable about your time with Asylum Access?
I really liked our team at Asylum Access, we all had a good connection immediately and there was never a competitive environment at work. The most rewarding experiences have been with persevering through the cases and workloads that originally might have seemed impossible. I also enjoy referring cases which might have not reached UNHCR's attention for whichever reasons.
What was the greatest personal challenge you faced during your VLA experience?
The biggest challenge initially has been to disengage myself as a professional from the highly personal stories you hear from clients about their lives and families. But I am also learning now that there's nothing wrong with connecting with our clients on a personal level, as long as I understand the boundaries of my role.
It's important to realize you can't help everyone you talk to, given our enormous caseload. You should be empowered to take on the cases you want and can realistically manage, but a lot of VLAs will burn themselves out by taking on too much.
What do you do for yourself to de-stress?
With the work we do, it's easy to feel so dedicated to work that you bring it home and forget to give yourself time to relax. When I first started, I forgot about my hobbies like writing and playing the guitar. I'm realizing now that there's nothing wrong with still making time for the activities that are important to me.
What do you see as the greatest challenge to asserting refugee rights in Malaysia?
Because Malaysia has not yet ratified the 1951 Refugee Convention, most legal services for refugees are very limited in scope here–we're mostly limited to advising on legal issues within the UNHCR process. The greatest challenge to asserting refugee rights is pushing all refugee rights as a matter of policy to the government, since the Malaysian government prefers to deal with each refugee community on a case-by-case basis. As Malaysia has quite a huge number of refugees, another big challenge is because UNHCR is the only organization processing refugees. We're seeing a backlog of cases, many being delayed and others falling outside the sphere of protection, forcing refugee advocates to look at other strategies such as community protection.
What one resource did you need that Asylum Access didn't have?
A robot interpreter! Something that can immediately translate different languages. I read that the Netherlands created a robot lawyer – you can feed into any legal problem and it comes up with a solution. That would be a game-changer for Asylum Access.
How will this experience at Asylum Access shape your future career plans/goals?
I definitely learned that I really enjoy working with refugees and now I have a more concrete idea of the type of work I'd gravitate towards. From my experience, I've come to take in a lot of knowledge about conflicts around the world you can't otherwise access just by reading, and I have thought a lot about how I can feed that into my work with refugees. This experience has definitely been inspiring and I'd like to keep working with refugees beyond this VLA program with Asylum Access. I want to be involved in the push for refugee rights in policy reform and would love to see Malaysia improve in that area. I don't have a concrete plan or goals as of yet, but I'm really excited to continue working in the space as I feel that it's the right area of focus for me.