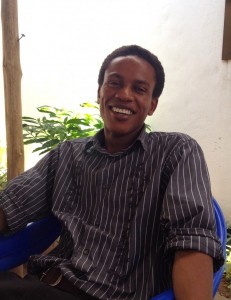 Name: Oltesh Abraham
Office: Asylum Access Tanzania
Age: 28
Hometown: Arusha, Tanzania
What type of law did you practice before volunteering with Asylum Access?
I used to practice international law in the International Criminal Tribunal for Rwanda (ICTR), and human rights law in the Legal and Human Rights Centre. I also worked on civil cases at the Resident Magistrate's Court as part of my law school field placement.
What made you volunteer as a VLA?
I always wanted to specialize in international law, such as criminal and human rights law. After working at the ICTR, I found AATZ and it seemed like another organization that would allow me to put my knowledge into practice, especially regarding human rights. After working on several genocide cases, I was moved by the atrocities that the victims had experienced and wished I could help. AATZ was a place where I thought I would be able to offer assistance through my knowledge and experience.
Describe a typical workday in Tanzania.
The day begins by reviewing clients' files, following up and doing new client intakes or visiting courts. I may be assigned to other activities apart from legal aid like preparing Know Your Rights trainings and Junior Achievement sessions for our clients. This mostly depends on a VLA's responsibilities upon entering the program, but the bulk of the work involves handling client's issues and empowering them through trainings.
Tell a story about a language barrier or cultural difference.
One day a client came to the office, but she only spoke Lingala. As our interpreter was not in, I tried to communicate with her using a few words and gestures. I somehow managed to take her phone number and postpone the meeting until the day when the interpreter was available. The interpreter and I called her the next day to set up another meeting.
What is your best memory of your Tanzania experience?
One of my best memories at AATZ was during the Julia Taft Prison Project when we were providing legal aid to detained migrants. It was my first time visiting prisons and the individuals we approached were always so happy to share their experiences and their issues. After listening to their stories, we would provide them with information about their cases and later follow up with them, depending on the case.
What was your favorite way to de-stress while in Tanzania
To de-stress I prefer being alone in a calm place like the beach or a recreation spot outside of the city to get away from the tension. I try to rest on the weekends, especially if I've had a busy week in the office.
What was your greatest accomplishment as a VLA?
When our Community Legal Empowerment Coordinator was on maternity leave, I was put in charge of her duties. My main responsibility included arranging a workshop to launch the prison project report and I managed to carry out the event with the help of my fellow workers. It was a very rewarding experience as it was a first event I have had to prepare, not to mention the workshop was very valuable as it provided participants with a forum to voice their feedback.
What was the greatest professional challenge you faced as a VLA?
Some of our clients involve themselves in transactions like buying land or other businesses. These are informal transactions without any written contract to purchase land that foreigners cannot legally purchase. When things go bad, they come to us requesting help. Since there aren't any documents for us to enforce the agreement, these cases can be quite difficult and we have to try to approach the other party in a friendly way. Otherwise, if he/she denies the existence of the contract, we have no legal grounds to make our demands.
What do you see as the greatest challenge to asserting refugee rights in Tanzania?
Tanzania does not have an urban refugee policy and if a refugee is found outside the camp without authorization, they are at risk of being detained. Since our office is located in town, it is often difficult for us to ask the government to provide them with their lawful rights. Also, after the Tanzanian government stopped issuing peasant permits, many people didn't want to relocate to the camp. This has posed a challenge for us as we cannot advocate for undocumented individuals that are not recognized by the authorities.
How will this experience shape your future career plans/goals?
Through my experience with Asylum Access, I have learned many new things, met many people from different organizations and governments, and worked in the field of international law, which is my desired career path. At AATZ, I have expanded my horizon and established a valuable network of professionals in the field. This helps me to understand how various issues related to the work are handled and where I can tap into much-needed resources.
Schools Attended and Degrees Conferred
Tumaini University – LL.B (Bachelor of Laws)
Post-Graduate Diploma in Legal Practice, the Law School of Tanzania

Published February 2014.