Imagine raising two children on less than $1 per day. This was one of the challenges Suzanne faced as a teenage mother. After witnessing the death of her parents at the hands of the Mai Mai rebels, Suzanne was forced to marry one when she was just sixteen. One day, while pregnant with her second child, her husband did not return from fighting. Suzanne decided to flee, eventually making her way to Tanzania, where she was too afraid to register at a refugee camp. She had been told that life there was difficult, and even dangerous, especially for a pregnant woman.
Instead, she went to Dar es Salaam, the country's economic hub, where she gave birth to her second child and took a job as a housekeeper, earning less than $1 per day.
Access to legal status transformed her life completely. Asylum Access Tanzania helped her obtain a "peasant permit", which meant access to other livelihood opportunities in the formal economy. Suzanne no longer needed to live in hiding.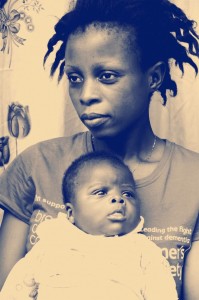 With the permit, Suzanne was less vulnerable to arrest and exploitation. More importantly, she gained freedom to move, unlike other refugees who lived in hiding in Dar.
"When I was given the permit, I started thinking of starting my own business because I was free to go any place I wanted. People would probably buy my goods because I would take them to where they are." With this in mind, Suzanne started selling cosmetics out of her handbag to supplement her income and later found a second job at a restaurant.
She began attending entrepreneurship trainings organized by Asylum Access Tanzania and Junior Achievement, learning practical skills to develop and carry out their business ideas alongside other refugees. The sessions covered topics like financial literacy, and provided specialized skills trainings in trades like cooking and hairstyling. The program also set up a Village Community Bank (VICOBA), allowing members to contribute and borrow money at a small interest rate. VICOBA enabled participants to borrow from one other to help kick start their businesses.
With some restaurant management experience under her belt and a better grasp of business and financial practices, Suzanne took out a small loan and opened her own business. Today, Suzanne is the owner of a restaurant, specializing in cuisine from her home country. No longer a housekeeper earning less than $1 a day, Suzanne can now provide for her family.
Like many other refugees, Suzanne is able to overcome trauma and build a new life for her family while contributing to her host country, if only she were allowed to.
By Communications and Development Officer Sandra ten Zijthoff
Published February 2014.