Asylum Access wants to dismantle the structures that enable refugee exclusion
Hello Friend,
My name is Sana and as a member of Asylum Access' global leadership team, I help lead our efforts to achieve the meaningful inclusion of refugees and local civil society within the forced displacement sector.
Before I share Asylum Access' inclusion journey, I want to mention how I got here. I first met Asylum Access through a partnership with the Global Refugee-led Network, a coalition I co-founded. In 2019 we worked together to launch the Meaningful Refugee Participation Guidelines (PDF), and this was an early indication that Asylum Access was willing to "walk the talk" on refugee inclusion. Through this project I learned that we had shared values, and when an opportunity arose to join the team, I took it.
Asylum Access was founded as a family of national organizations that are locally led and run, so we've always believed in proximate solutions. In recent years, we've taken our model a step deeper to think about what this means for refugee leadership. We know that structural racism and bias in our sector have led to the systemic exclusion of refugees and local civil society organizations from strategy development and decision making processes. We believe we have a duty to dismantle the structures that enable this exclusion – in the ecosystem in which we operate and within our own organization.
Over the past two years we've been working closely with a diversity, equity and inclusion consultant who was given the resources and time to do a deep diagnosis of who we are, how we do work, and how we can live up to the values that really drive our mission. We also created two internal groups – one within our global leadership team and one within our board of directors – that drive this work forward in the organization. Both groups have separately set a number of goals and initiatives that will help us realize refugee leadership, with benchmarks, to make sure we hold ourselves accountable to the values we are promoting.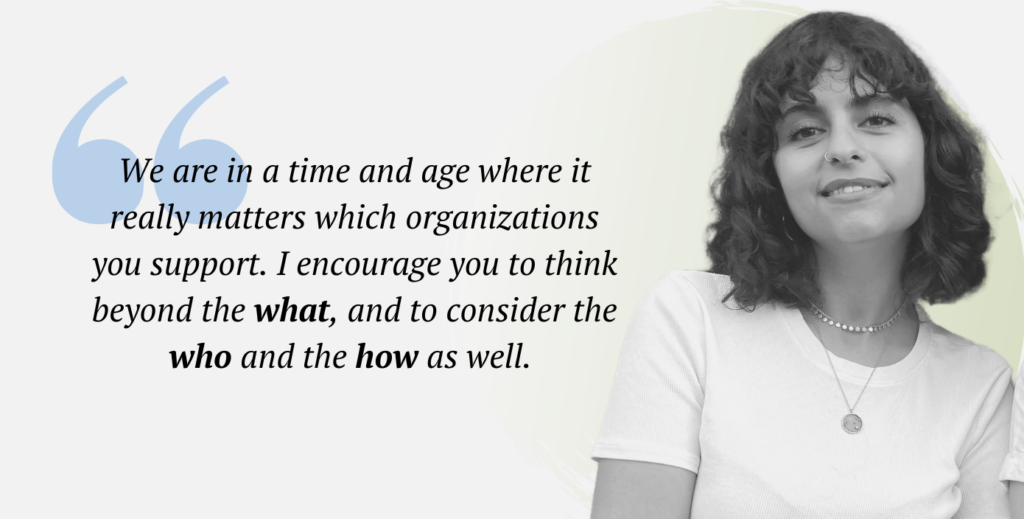 All of this work has led to major internal changes in terms of our policies and ways of working, and also our representation. In the past year we've welcomed multiple hires on the board and across the global and national teams who are people that have been forcibly displaced. This isn't just for the sake of representation, it's because we as an organization believe that experience of forced displacement is an acquired knowledge, it's a skill, and it's critical for the work that we do.
Our internal inclusion journey has also organically led to projects that center people of forced displacement, and the impact of this has been enormous. One notable example is the Resourcing Refugee Leadership Initiative – this initiative won the $10 million Larsen Lam ICONIQ Impact Award and we expect it to impact the lives of over 1 million forcibly displaced people over the next 5 years.
As someone who has personally experienced forced displacement, I'm proud to work for an organization that's so deeply committed to making change internally and within the sector. We are in a time and age where it really matters which organizations you support. I encourage you to think beyond the what, and to consider the who and the how as well.
Asylum Access' what is a sustainable solution; a rights-based approach allows people to rebuild their lives with dignity and agency and stop depending on international aid. Our who is special: we are a group of advocates who are reflective and are willing to learn and unlearn, and we've been taking a journey toward being more representative of the communities we work and live with.
In our work, we also think very purposefully about how we interact with each other – internally with our colleagues, and externally with our donors, partners, and clients. We recognize our position of power and privilege within the sector; we try to be aware of this and always utilize it in the interest of people who have been forcibly displaced. We've recorded our learnings and recommendations in a recent position paper: Building Equitable Partnerships: Shifting Power in Forced Displacement. Please take a look!
Thank you so much for being part of this movement. We are grateful for any gift you can make to support our end-of-year appeal.
With appreciation,
Sana Mustafa
Director of Partnerships and Engagement
Asylum Access
PS: If you'd like to learn more about this work, we invite you to check out our recent webinar discussion—Shifting Power in Forced Displacement: Pathways Toward Equitable Partnerships.