(En español abajo)
Asylum Access is thrilled to announce that US-based philanthropist MacKenzie Scott has given us a $4 million USD gift to continue to make refugee rights a reality!
Scott is one of few global philanthropists whose philanthropic approach is shifting power and resources back to people-led movements. As she stated in her latest post, "I can share what I have with them to stand behind them as they speak and act for themselves."
At Asylum Access, we recognize that global corporations, including Amazon, are major contributors to the exploitation of labor and erosion of labor rights worldwide. We would like to take this opportunity to express our support for all labor actions organized by Amazon workers, reiterate our belief that labor rights are refugee rights, and express our continued commitment to advocating for refugees' right to work under fair and safe conditions.
At the same time, we support and encourage all efforts by beneficiaries of global capitalism to redistribute wealth back to the communities it was taken from across the globe. We particularly appreciate the approach that MacKenzie Scott has taken by making unrestricted gifts and preserving autonomy over their use. We believe that this is a dignifying and empowering philanthropic approach, and it is one that we have encouraged in our sector through the principles in our Equitable Partnerships Guidelines.
We aim to use this generous gift to promote and actualize an equitable and safe work culture, continue to work with forcibly displaced communities as they reclaim their rights with dignity, and unlock resources for local and refugee-led organizations.
We are also thrilled and excited that many of our partners and other grassroots-led groups across different movements have received significant support.  We believe this approach promotes collaboration and an abundance mindset in our connected ecosystems. 
It is our privilege to receive this gift, and we will make sure we share it with accountability to the communities we live and work with.  We look forward to having you join us on that journey.
---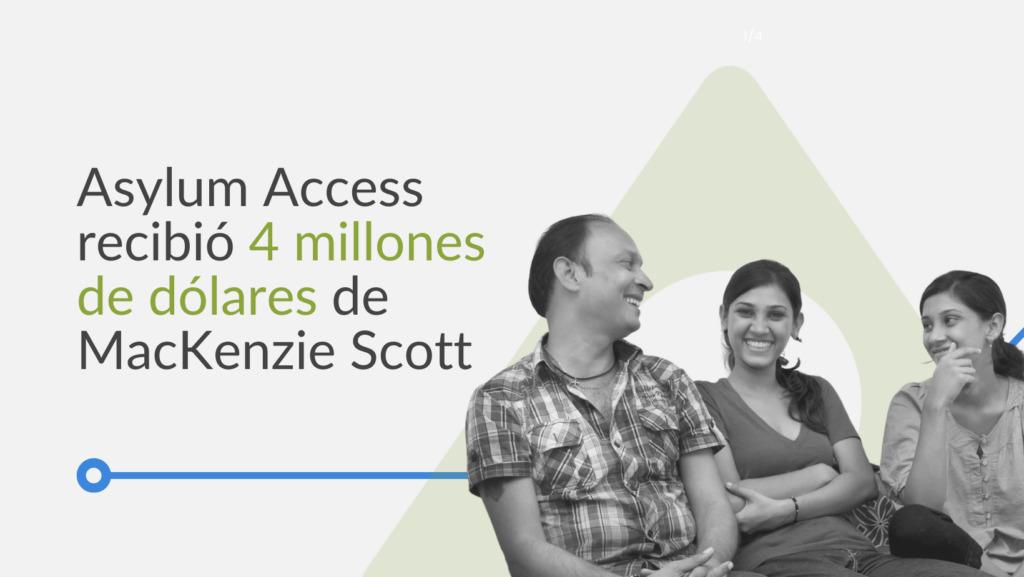 Asylum Access recibió 4 millones de dólares de MacKenzie Scott
Asylum Access se complace en anunciar que la filántropa estadounidense MacKenzie Scott nos ha donado 4 millones de dólares para seguir haciendo realidad los derechos de las personas refugiadas.
Scott es una de las pocas filántropas a nivel mundial cuyo enfoque filantrópico está devolviendo el poder y los recursos a los movimientos dirigidos por las personas. Como declaró en su última publicación, "puedo compartir lo que tengo con ellas y ellos para apoyarles mientras hablan y actúan por sí mismos".
En Asylum Access, reconocemos que las corporaciones globales, incluida Amazon, son los principales contribuyentes a la explotación laboral y a la erosión de los derechos laborales en todo el mundo. Nos gustaría aprovechar esta oportunidad para expresar nuestro apoyo a todas las acciones laborales organizadas por las y los trabajadores de Amazon, reiterar nuestra creencia de que los derechos laborales son los derechos de las personas refugiadas, y expresar nuestro compromiso continuo de abogar por el derecho de las personas refugiadas a trabajar en condiciones justas y seguras.

Al mismo tiempo, apoyamos y alentamos todos los esfuerzos de las y los beneficiarios del capitalismo global para redistribuir la riqueza a las comunidades de las que fue tomada en todo el mundo. Apreciamos especialmente el enfoque que ha adoptado MacKenzie Scott al hacer donaciones sin restricciones y preservar la autonomía sobre su uso. Creemos que este es un enfoque filantrópico digno y empoderador, y es uno que hemos fomentado en nuestro sector a través de los principios de nuestra Guía de Alianzas Equitativas.
Nuestro objetivo es utilizar esta generosa donación para promover y actualizar una cultura de trabajo equitativa y segura, seguir trabajando con las comunidades desplazadas por la fuerza para que reclamen sus derechos con dignidad y desbloquear recursos para las organizaciones locales y de personas refugiadas.
Todas y todos estamos encantados y entusiasmados de que muchas y muchos de nuestros socios y otros grupos de base de diferentes movimientos hayan recibido un apoyo significativo. Creemos que este enfoque promueve la colaboración y una mentalidad de abundancia en nuestros ecosistemas interconectados.
Es un privilegio para nosotras y nosotros recibir este regalo y nos aseguraremos de compartirlo con responsabilidad con las comunidades con las que vivimos y trabajamos. Esperamos que nos acompañen en este viaje.