A single mother of three children, Viviane fled Burundi one night after being raped and psychologically tortured. Many people suspected and blamed Viviane's family for the instability in Burundi because her father was a high-profile figure in the former government.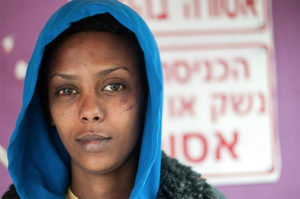 After President Pierre Nkurunziza announced his plans to run for a third term in direct violation of the Burundian constitution, Viviane became the target of repeated sexual assault and violence. The burgeoning conflict in Burundi that year displaced almost half a million Burundians like Viviane, many of whom fled to Tanzania for safety. When Viviane first approached Asylum Access Tanzania (AATZ), she was traumatized and unable to disclose what she had undergone in Burundi. Over time, AATZ arranged counseling sessions to treat Viviane's sexual, physical and psychological trauma. Now, AATZ is helping Viviane's children learn English and attend counseling, as well as helping Viviane acquire a residential permit to continue living in Dar es Salaam.
Today, refugees like Viviane continue to flee Burundi at high rates. According to UNHCR, the total number of Burundian refugees in Tanzania is expected to increase to 534,000 people by the end of the year, meaning that about 1,000 Burundian refugees are entering Tanzania per day.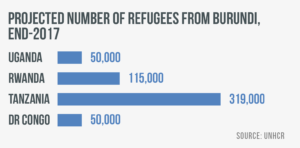 Long before last year's wave of incoming Burundian refugees, Tanzania has been a popular destination for refugees from neighboring countries. Since the 1960s, many refugee groups have historically fled to Tanzania due to its convenient shared border with eight other nations and its "Open Door Policy" that governed a period of generous refugee intake from the early '60s to the '90s.
The Refugee Act of 1998, however, was brought about by legislative and economic changes, officially marking the end of this "Open Door Policy" for refugees in Tanzania. In response to the demands of the growing refugee crisis due to violent genocides in neighboring Burundi and Rwanda, the Refugee Act of 1998 provided refugees in Tanzania less support than they were previously entitled to and also began to restrict their rights to live, move, and work within refugee camps.
The policies enacted to restrict refugee movement and work rights in Tanzania's Refugee Act of 1998 are still being upheld today. Because refugee camps are often overcrowded and don't present refugees with opportunities to rebuild their lives through stable work and education, AATZ believes it's important to secure the freedom of movement for all refugees.
The restriction on movement also restricts job opportunities for refugees engaged in small income-generating activities within the confines of refugee camps. Refugees often don't have protection from unfair treatment or exploitation and can't pursue more stable job opportunities outside of refugee camps.
AATZ envisions a system where refugees are able to move freely and work safely, where they can grow to become less dependent on humanitarian aid.
In 2017, we look forward to broadening the scope of our services and helping more refugees attain the rights they need to rebuild their lives.
Written by Communications Coordinator Gayatri Ganapathy