The ability to seek safety in a new country is a fundamental human right. The United States has a legal obligation to accept people who show up at its borders seeking protection and determine whether or not sending them back to their home countries would threaten their safety.
During the four years of the Trump administration, there was a concerted, deliberate effort to undermine this fundamental human right. Dozens of rapid-fire, confusing and cruel immigration policies successfully shut down the US-Mexico border and curtailed the US refugee resettlement program. By the end of Trump's presidency it was almost impossible for someone to seek asylum in the US.
These efforts resulted in profound human suffering, especially for people seeking safety at the US-Mexico border. The Biden administration has made progress in reversing some of the most egregious immigration policies, but there is still much more work to do.
Below, we break down three of the more well-known policies, the effects they had – and continue to have – on people seeking asylum, and our recommendations for pathways forward.
Metering
(April 2018 – Present)
In late April 2018, the Trump administration ordered ports of entry across the US-Mexico border to "meter" people seeking asylum.
Metering empowers the US Customs and Border Protection agency to limit how many asylum seekers they are going to admit each day. Each Customs and Border Protection (CBP) office stationed at the US-Mexico border gets to set an arbitrary number (usually a miniscule one) for how many people seeking asylum they will allow to enter the US on a given day. Customs and Border Protection does not provide any administrative or logistical support for managing this practice; it is up to the people seeking asylum, or other advocates at the border, to determine who gets to be part of the daily quota.
See also: Key Points for Rebuilding a Better Regional Asylum System
For example, if the Tijuana Border Protection office determines that they will allow seven people to enter on that day, the burden falls on those seeking safety at the border to figure out who those seven people will be. To manage this difficult situation, people on the Mexico side of the border created and maintained an informal sign-up sheet of who would be selected. These lists are most often maintained by people seeking asylum, but at some points of entry the lists are managed by Mexican immigration officials. When the US CBP office announces the number of people they will admit each day, the individuals maintaining the lists decide who will be selected.
This unofficial, ad hoc system threatens the safety of people seeking international protection and is widely considered illegal. Metering lists are generally administered chronologically in the order in which asylum seekers add their names rather than according to vulnerability, and US authorities have abdicated their responsibility to determine if a metered asylum seekers may face torture, persecution or other harm in Mexico. As a result of metering, the number of people seeking asylum at US-Mexico border ports of entry has steadily grown, creating long lines and a huge backlog.
The Biden administration has not put forward a plan for allowing those currently on metering lists to enter the United States. There are approximately 16,000 people still on metering lists across the US-Mexico border. Many of them have been waiting 1-2 years for the ability to seek safety in the US.

Recommendation: The metering policy should immediately end and the ~16,000 people currently on metering lists should be admitted to the US and given the opportunity to exercise their right to apply for asylum.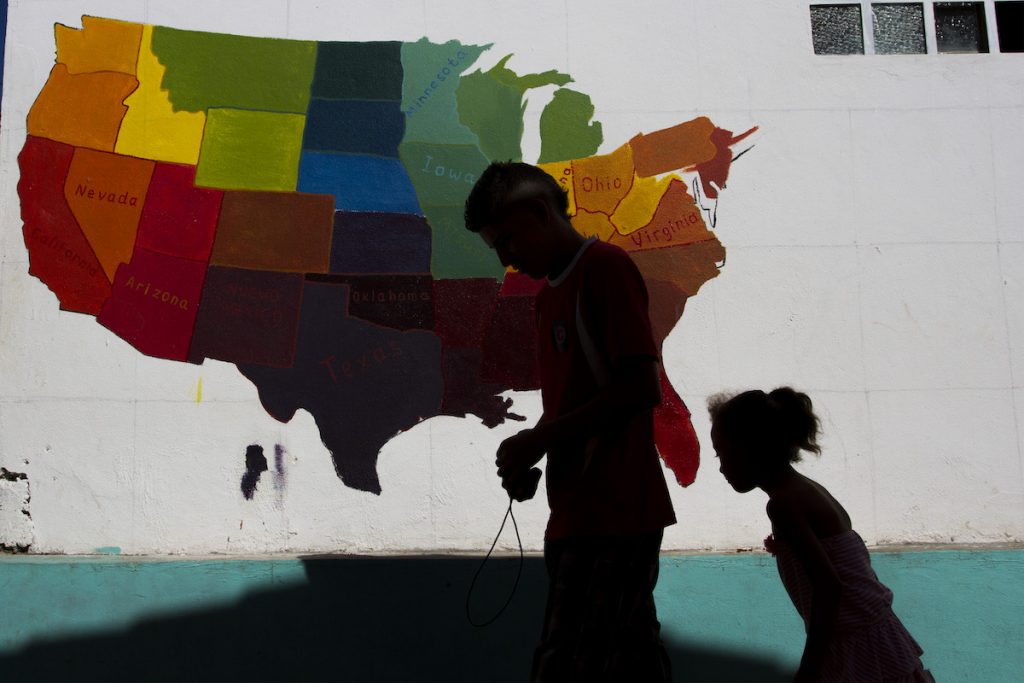 Migrant Protection Protocols (MPP)
(December 2018 – February 2021)
When someone seeking asylum arrives on US soil and states they cannot go back to where they came from because their lives are at risk, the US has a legal obligation to inquire why that person cannot return to their home country. There is a strict process in place to determine the validity of their claim, including demanding supporting evidence and relevant documents.
Since Congress passed the Refugee Act in 1980, throughout this whole process people seeking asylum have been allowed to remain in the United States because the US recognizes its legal obligation to ensure the safety of those who are asking for this protection.
This all changed during the Trump administration. Under the Migrant Protection Protocols, also known as MPP or 'Remain in Mexico,' the US government created a new policy whereby people seeking asylum in the US were required to live in Mexico while they waited for their US court date. The Migrant Protection Protocols were a significant departure from established US refugee law and practice.
Under MPP, the US sent more than 70,000 people back to Mexico – and to the most dangerous parts of Mexico – endangering the lives of so many who were already fleeing violence and persecution in their home countries.
See also: In the Mouth of the Wolf, an investigation on human rights violations against asylum seekers under MPP (in Spanish).
Predictably, many of the people sent back to Mexico were targeted for crimes of opportunity and organized crime by cartels on the border. Criminal networks realized these individuals had nobody to protect them in Mexico and likely had family in the US they could exploit for money. Human Rights First tracked more 1,500 cases of severe crimes against people returned to Mexico under MPP. Although the Mexican government committed to providing dignified living conditions and state protection for people returned under MPP, these promises went largely unfulfilled, and MPP returnees were stuck in a legal limbo, with neither the US nor Mexico assuming responsibility for their safety. There are stories of people being kidnapped every day.
On the first day in office, the Biden administration announced no new MPP enrollments. Over the last couple of months, the Biden administration is gradually sunsetting the MPP program for 25,000 people who have open cases. Every day, the administration is allowing in 50 to 100 people. Though it's a slow process, US officials working closely with civil society service providers and International Organizations in Mexico and the US have managed to bring 1,200 people into the United States. They haven't granted them refugee status, but they are at least in protection under the United States authority.
What we haven't seen yet is how the US will handle the approximately 40,000 people whose cases were closed under MPP. Many of these people did not have proper legal representation and could not cross the borders safely for their court appointments. Many of these people were not able to be present for their hearings, with the chances they were potentially kidnapped. There is currently no answer for what is going to happen to them. 

Recommendation: Develop a process to allow the approximately 40,000 people whose cases were closed under MPP to reopen their cases and have them reheard.
Title 42
(March 2020 – Present)
Title 42 is considered one of the most controversial and restrictive immigration policies ever implemented at the US border.
In March 2020, the Centers for Disease Control and Prevention issued an order invoking Title 42 of the United States Code to close down the border to anyone that doesn't have a visa, arguing that these people pose a "public health risk" and need to be immediately expelled. These arguments have been repeatedly panned by public health experts.
In practice, the Title 42 policy allows US CBP authorities to immediately expel someone, with no inspection of their need for protection or needs in general. It's just a summary expulsion either to Mexico or to their country of origin. Under an agreement with Mexico, only Central Americans and Mexicans should be sent back under Title 42, however we've seen other nationalities being sent back to Mexico as well.
See also: Recommendations from Mexican Civil Society Organizations to the Biden-Harris Administration
Between March 2020 and February 2021, the US expelled over 500,000 migrants (including 16,000 unaccompanied children and 34,000 children with families) using the Title 42 policy as justification.
The Biden administration continues to rely on the Title 42 expulsion policy, however its application to unaccompanied children was recently ended (after a Federal court determined these expulsions of unaccompanied children is illegal). Unaccompanied children who are seeking protection at the US-Mexico border can no longer be turned away; yet, the Biden administration continues to expel thousands of families and individuals to Mexico and their countries of origin without any inquiry into whether they will be tortured, persecuted or face other harms upon return. The US must fulfill its legal obligations to accept them and determine whether sending them back to their home countries would threaten their safety. 

Recommendation: The US should immediately end Title 42.
Violating the non-foulement principle
After World War II, the global community recognized that there is a collective obligation to not return someone to a country where they will likely face torture or persecution. Also known as the principle of "non-refoulement," this is one of the most fundamental principles of international law and is designed to protect people seeking asylum.
Through the above policies — and many more — the United States is violating the principle of "non-refoulement" and endangered the lives of thousands of people seeking safety.
The Biden administration has an opportunity to end these cruel, discriminatory policies, and to provide assistance to the people who have been harmed by them. We hope they do so.