In our last newsletter, we shared Global Legal Services Director Amalia Greenberg Delgado's reflections on Asylum Access's ten years of growth.
This time, Ben Lewis, a VLA alum who is currently the Advocacy Coordinator for International Detention Coalition, gives us his perspective:
Every international lawyer's career is filled with lucky breaks—opportunities to enter the field; working with mentors that guide and challenge us; formative experiences that shape us for the better. Many of mine can be traced back to the fall of 2009 when I joined Asylum Access as a first year law student.
Working from the living room of a nondescript row house in the Mission district of San Francisco, the Asylum Access team was led by the indomitable Emily Arnold-Fernandez, managed by the brilliant Lindsay Toczylowski, and driven by a seemingly endless stream of interns such as myself who took turns working from couches and makeshift desks.
I was assigned to the policy advocacy team where I worked alongside Michael Kagan, another brilliant legal mind and inspirational refugee rights advocate. These heady days provided me with both a crash course in human rights lawyering and a life-long professional family in the Asylum Access colleagues I came to know.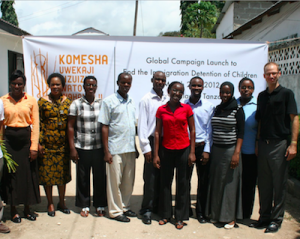 My internship ended in 2010, but I continued to follow the organization's progress throughout the remainder of my law school years. I took internships with other human rights organizations in Cambodia, Haiti and Peru, but something always drew me back to Asylum Access. After graduating from law school and passing the California Bar, I received a fellowship to continue working for Asylum Access as a Volunteer Legal Advocate in Dar es Salaam, Tanzania.
There, few organizations and mechanisms existed to provide legal aid to refugees and asylum seekers, though legal assistance outside established government offices is often the only hope people have to meaningfully access asylum systems in countries of refuge. If not for Asylum Access Tanzania's (AATZ) presence, our clients may never have seen an attorney.
One of my first clients, John*, fled the Kivu region of the Democratic Republic of Congo (DRC) after members of his immediate family were brutally murdered. Not only had the local asylum office refused John a refugee status determination interview, but they verbally abused him and threatened him with arrest and deportation back to the DRC. He fared little better at the local UNHCR office, who informed him that his only recourse would be to report to a refugee camp where he could expect to wait for years before his asylum claim might ever be heard.
Fortunately, we were able to intervene to secure a temporary protective status for John and jump-start the refugee status determination process in Tanzania.
John was the exception. There were countless others who were never able to access the legal assistance they needed and who ended up arrested, detained, exploited, or deported. Others simply gave up hope and undertook dangerous journeys to seek asylum elsewhere. Stories like these made it clear that Asylum Access's work wasn't just important – it was lifesaving.
Yes, one of my lucky breaks was being in San Francisco when Asylum Access and its team of devoted refugee rights advocates were just getting started. The experience instilled in me the knowledge, confidence, and skills to be an international advocate.
Today, I work with hundreds of refugee and asylum NGOs around the world and yet Asylum Access continues to stand out as an especially impactful organization. I have little doubt that in another ten years from now, it will have continued to grow in both lasting impact and reach.
*Names have been changed to protect the client's identity.
Written by AATZ VLA alum Ben Lewis
Newsletter Summer 2015