"Being a refugee is […] a challenge to rise up, to rebuild my life and contribute to the betterment of society." -Nondo Nobel Bwami, World Refugee Day Speech
Asylum Access Tanzania (AATZ) Community Empowerment and Outreach Coordinator Nondo Nobel Bwami first came to Tanzania as a refugee from the Democratic Republic of the Congo. He understands the challenges of being a refugee firsthand and has gone above and beyond overcoming these challenges, as he described in a riveting World Refugee Day speech.
Today, in his role at AATZ, Nondo helps others achieve the same by empowering refugees in Dar es Salaam and engaging with host communities to advocate for refugees' rights and integration.
Refugees globally face prejudice and discrimination in their host countries, and urban refugees in Dar es Salaam are no exception. In a study carried out by AATZ, more than 30% of refugees reported concealing their identity to avoid discrimination. The discrimination they face puts them at risk of arrest or detention and limits their ability to access necessary services and overcome poverty.
According to Nondo, community engagement is the fundamental action to transforming local perceptions of refugees. "It's one of the challenges we face here: How do we engage the local community […] to conceptualize refugees not as 'the bad guy', but as contributing to the community?"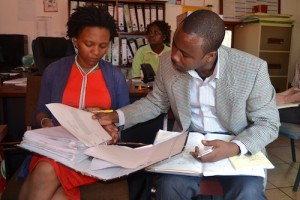 Determined to find solutions to this and other challenges experienced by refugees in Tanzania, Nondo applied for and was accepted to the first Namati Learning Exchange Program, hosted by the National Alliance for the Development of Community Advice Offices (Nadcao) in Johannesburg, South Africa.
During the program, participants from all over the continent gathered to learn from innovative legal aid programs in Johannesburg and to discuss strategies for advocacy and building trust with the local community, among other topics.
One field visit to a recycling project motivated Nondo to start thinking about how environmental sustainability and refugee-community integration could go hand in hand in Dar es Salaam. In the coming months, he plans to research similar approaches that would strengthen the relationship between the host community, the refugee population, and the municipal government—a truly win-win-win solution!
Nondo came away from his first trip to South Africa, Organization Action Plan in hand, inspired to implement changes and new ideas at AATZ that will not only build better relationships with local community members, but garner trust from local law enforcement and incorporate creative programming allowing refugees to contribute to the sustainability of the host community.
Through the Namati Learning Exchange Program and others like it, Asylum Access contributes to the global conversation on the challenges and best practices that exist in serving refugee communities. In Latin America, a similar opportunity arose when AALA Director Karina Sarmiento joined other emerging human rights leaders as a Draper Hills Summer Fellow at Stanford University's Center on Democracy, Development and the Rule of Law for a 3-week training program designed to exchange knowledge, network, and explore innovative ways to promote positive democratic change around the world.
As Nondo said in 2012, "A refugee is a normal person and, like anyone else, he is capable of extraordinary things provided that he is only given a chance." At Asylum Access, we are committed to learning from others and sharing our own practices to give refugees around the world their opportunity to do the extraordinary.
Written by Communications and Development Intern Caroline Asiala