As a child growing up in rural Colombia, Maribel dreamt of becoming a nurse or a seamstress. She lived on a farm with her parents and siblings, but her childhood was far from idyllic. Barely into highschool, Maribel was forced to drop out and learn to sew to support her younger brothers' education.
At age twenty, Maribel got married. In the years to follow, she lived "a life of torture", trying to raise six children while enduring constant physical abuse from her husband, who would also steal her hard-earned money to feed an addiction that would eventually take him to his grave.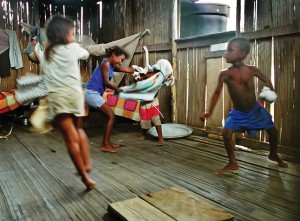 One year after her husband's death, Maribel was managing her own farm and providing for her children. She even re-married and, together, she and her partner combined their farms and their wealth. Situated along the Ecuador-Colombia border, they profited from the plantain, cacao, and wood their farms produced.
Meanwhile, the Colombian armed conflict was materializing at their doorstep. Armed groups were pillaging land and resources, threatening lives, and forcefully recruiting young men and women. Families were fleeing to Ecuador due to targeted persecution, and Maribel's family was no exception.
One day, she and her partner arrived at her farm and found it overrun with soldiers belonging to an armed group. They threatened her family and raided her home. Their other farm was taken soon after. With few options left, they fled to Ecuador by boat.
"The day I left my country, I was filled with sorrow. I was abandoning my land and the farms I depended upon."
On the other side of the border, only hours from their own property, Maribel and her family began the process of rebuilding their lives.
While applying for asylum, Maribel received support from two local organizations to set up a home sewing business, where she and her daughter mend and sew clothes. On one of her trips to the Refugee Education Trust where she was inquiring about her daughter's educational options, she met Alexandra, a legal services coordinator at Asylum Access Ecuador (AAE).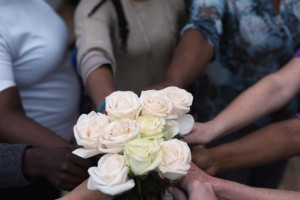 In the following weeks, AAE guided Maribel through the process of accessing education for her children and obtaining an Ecuadorian disability card for her partner, who is deaf. Maribel was also introduced to AAE's Encuentros de Mujeres, or Women's Empowerment Groups, which has had a tremendous impact on her life.
Since her first day at the Women's Empowerment Group, Maribel has become an active participant, attending every meeting and workshop. The group has helped her process and cope with the difficulties she faced, and continues to face, as an afro-Colombian refugee woman and survivor of gender-based violence.
The Women's Empowerment Group was good for me because I had so many things bottled up. I was able to relieve myself of them and from all the stress. I had the possibility to speak to other people and I lost my shyness. I usually don't go anywhere, but when I am at the group, I feel as if I am in a different place, in a different life."
Through the Women's Empowerment Groups as well as sessions with a family psychologist, Maribel was stunned to discover that the cycle of violence had not ended with her – one of her daughters had also been subject to gender-based violence in her own home. Today, they continue to work through their shared trauma and, in the process, have become closer as mother and daughter.
"Thanks to Asylum Access I am no longer the same [person]. My life has taken off, I am more open in my relationship with my daughter and we have more dialogue."
As Maribel works on securing her daughter's education, her long term goal is to acquire a small piece of productive land to build a house for her family. The obstacles along the way are many: her home business is not always profitable and her living situation is precarious. Yet behind Maribel's serene expression, there is a strong-willed woman, made stronger through the support of her companions at the Women's Empowerment Groups.
Written by Communications Officer Sandra ten Zijthoff
Newsletter Summer 2015
[hr]
Do you want to get involved?
Donate. Every contribution makes a difference. Consider making a monthly pledge to support our work.
Intern or volunteer. Without the support of our current and former interns and volunteers, our work would not be possible. Apply today.